Indian Railways To Launch Eleventh Vande Bharat Express From Delhi To Jaipur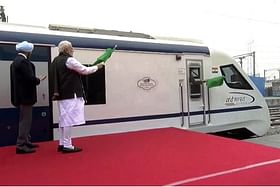 https://gumlet.assettype.com/swarajya/2019-02/2ba8e680-aebf-4d98-9668-b6d6561602bd/DzbJw2IVAAUtzx1.jpg
The eleventh Vande Bharat Express is going to be launched from Delhi to Jaipur in the third week of March and with this total three such trains would be originating from here.
According to a notification by North Western Railway, the indigenously built semi-high-speed train will be operated on the Delhi-Jaipur route and will most likely be launched by the third week of March 2023.
The semi-high speed with modern facilities will be running six days a week and expected to reduce the travel time between the two cities considerably.
The date of launching and other details are being worked out and we will be launching the service for the Jaipur sector shortly, said a senior Railway Ministry official.
North Western zone has asked IRCTC to make necessary catering arrangements onboard for the Vande Bharat train.
Currently, the Vande Bharat Express trains are operational on 10 routes in India, covering multiple states including New Delhi-Varanasi Vande Bharat Express, New Delhi-Shri Mata Vaishno Devi Katra (J&K) Vande Bharat Express, Gandhinagar and Mumbai Vande Bharat Express.
They also include New Delhi to Amb Andaura in Himachal Pradesh Vande Bharat Express, Chennai-Mysore Vande Bharat Express, Nagpur-Bilaspur Vande Bharat Express, Howrah-New Jalpaiguri Vande Bharat Express, Secunderabad-Visakhapatnam Vande Bharat Express, Mumbai-Sainagar Shirdi Vande Bharat Express, and Mumbai-Solapur Vande Bharat Express.
The Railways would launch 400 of such trains in the next three four years out of which 75 trains would be having seating facilities and rest would be with Sleeper arrangement.
Recently the bids were opened for manufacturing of 200 Vande Bharat trains with Sleeper facilities in which the Russian rolling stock company TMH has emerged as the lowest bidder.
The tender for making 100 Vande Bharat with aluminum body is expected to be opened shortly.
The light weight aluminum train with Sleeper facility would be equipped to run at a maximum 200 kmph speed, a first in Indian rail sector.