Indian Railways To Redevelop Cuttack Station As An Iconic Building With Rs 295 Crore Budgetary Outlay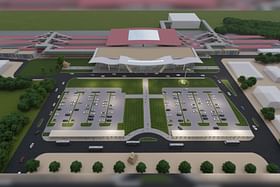 The Railways has undertaken a major exercise to redevelop Cuttack railway station in Odisha at an estimated cost of Rs 295.13 crore.
The proposed new station building in Cuttack will be an iconic one with modern amenities like food court, retail arcade, paid lounges and waiting halls.
All important trains including Rajdhani, Duronto, Shatabdi and Vande Bharat besides mail/express services like Purushottam, Neelachal and Utkal Express stop at the Cuttack station is an important station in the Indian rail network as all important trains.
The four storeyed station building will have 20 elevators, 17 escalators and 16 door frame metal detectors besides 25 hand metal detectors and 16 baggage scanners in the new station.
The air concourse 108 m wide will have seating spaces, lounges, convenience stalls.
There will be five retiring rooms and also dormitory facilities for both male and female passengers.
Strengthening security, the entire station will be equipped with CCTV monitoring system, luggage scanner and access control.
The aesthetically made platforms will display Real Time Train Information System and the entire circulating area with landscaping.
The station will have all facilities for persons with disabilities to make the rail premise Divyang-friendly.
In order to encourage electrical vehicle operation, there would be adequate parking space with facility of electrical car charging points at the parking bay.
The station would become an energy efficient green building, with solar panels on the roof.
Special care has been given to set up an effluent treatment plant as part of the Solid Waste Management.Cuttack is an old and historical city of the state and the facade of the station is expected to reflect it.