Jawaharlal Nehru Port's Container Ship Turnaround Time Among The Best Globally, India In Top Performers List: World Bank Report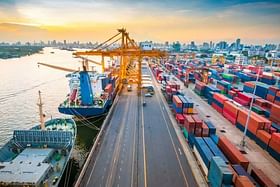 The Jawaharlal Nehru Port – India's top state-run container port, can turn around container ships in just 22 hours or 0.9 days, as stated in the Logistics Performance Index Report 2023 by the World Bank.
It is India's biggest state-run container port by volumes handled and the nation's second largest overall.
The turnaround time (TAT) of a ship refers to the time the vessel reports at the anchorage of a port to the time it sails out from the berth.
The efficiency of a port can be gauged by several factors, and one of them is its turnaround time for container ships.
JN Port's turnaround time for container ships is amongst the best cited by the World Bank for container ports globally in the Logistics Performance Index and puts India in the list of top performers, as per an ET report.
"The World Bank data reiterates that our efficiency parameters are better than many countries as per LPI 2023 report and we as a team are committed to further reduce the logistics cost and time for the export-import (EXIM) trade," said Sanjay Sethi, Chairman, JNPA.
According to Sethi, the success achieved by JNPA can be attributed to a range of measures that have been implemented to reduce the dwell time.
One of the most significant contributors has been the operational efficiency of the terminal operators.
Additionally, improvements in landside rail and road connectivity, the introduction of a Centralised Parking Plaza (CPP), digitisation of processes, streamlined berthing and unberthing of vessels, and increased deployment of tugs for smoother ship movement have also played a crucial role in achieving this feat.
The port located near Mumbai handled a record 6.05 million twenty-foot equivalent units (TEUs) in the fiscal year 2023, the most since the port started operations more than three decades ago.
The container volumes handled by JNPA have seen a growth of 6.45 percent in FY23 as compared to the previous year's figure of 5.68 million TEUs.