Kolkata Metro: India's First Underwater Metro Is On Course For December Launch, Trials Underway On Esplanade-Howrah Maidan Stretch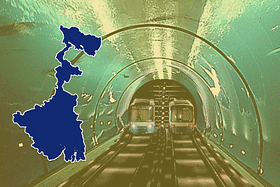 The opening of this stretch will make Howrah Metro station the deepest in the country, located 33 metre underground.
Commissioning of this new route, which will complete the entire 16.6 km East-West Metro line of Kolkata.
Kolkata's underwater metro is on course to be operational between Howrah Maidan to Esplanade by the year-end.
India's first underwater Metro Rail below the river Hooghly in Kolkata made its first maiden journey from Mahakaran to Howrah through a water tunnel 32 metres below water level on 12 April. It is considered a historic moment as Kolkata is the city which got its metro first in the country in 1984.
The Metro Railway general manager P Uday Kumar Reddy has announced that commuters will soon be able to take the Metro under the Hooghly River in Kolkata, India.
Reddy made the announcement on Monday (22 May) while attending an event at East-West Metro's Sealdah station.
According to Reddy, this new route, which will complete the entire 16.6 km East-West Metro line, will happen in June or July. The Sealdah-Esplanade link, which is currently incomplete, will be operating by December.
Reddy expressed confidence that the Esplanade-Howrah Maidan run will start in December and that the gaps in the eastbound tunnel will be filled up by then, reports Times Of India.
The Metro Railway and Kolkata Metro Rail Corporation (KMRC) are currently conducting trials along the 4.8 km Esplanade-Howrah Maidan section.
The opening of this stretch will make Howrah Metro station the deepest in the country, located 33 metres underground.
India's First Underwater Metro Service
India's first underwater metro service is part of Kolkata's East-West Corridor Project. The East-West Metro Project will link Sector V with the Howrah Maidan on the other side of the Hooghly River. It is being built at a cost of Rs 8,600 crore.
The key portion of the project is a 520-metre underwater tunnel, which is located in the 10.8 km long underground section. The underwater metro train has been compared to the Eurostar, which connects London and Paris.
The commuters will move quickly through the water, covering roughly 500 metre in less than a minute.
When completely operational, trains will travel through the river tunnels at 80 kph and take 6 minutes to get from Howrah Maidan to Esplanade.
In 2017, the tunnelling project under the Hooghly river bed was successfully finished by construction major Afcons.
The underwater section will consist of twin tunnels made of 1.4 m-wide concrete rings. The tunnels include hydrophilic gaskets to further prevent water from getting inside.
Leading design firms like Atkins, Systra, and Tunnel Consult collaborated on the project.
Tunnel boring machines (TBMs) made by Herrenknecht were ordered. In the event of even a small water intrusion, the TBM would shut down like a submarine. British safety regulations were observed.
Trains will operate 26 metre below ground level at the tunnel's bottom, which is 36 metre from the water's surface.
Delays In The Project 
The project's foundation stone was placed in February 2009, and its completion date was set for October 2014. Realignment caused the work to stop from 2012 to 2015. Weak geology and a crowded topography caused many difficulties for East-West Metro Corridor.
On 31 August 2019, a tunnel boring equipment struck an aquifer, causing severe earth subsidence and the collapse of numerous nearby buildings.
The project was initially expected to be completed by December 2021, but has been delayed because of mishaps that occurred at Bowbazar in central Kolkata while tunnelling work was being done.
In May, nearly three years after a similar event there, numerous residences experienced cracks while underground work was being done.