Mumbai Gets New 918-Metre-Long Cantilever Bridge On Versova Creek, To Ease Vehicular Movement On Mumbai-Surat Corridor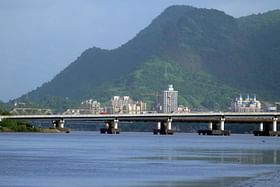 https://gumlet.assettype.com/swarajya/2023-01/2f6976ab-8ca7-4681-b6aa-b6c0f4e1199b/thane_creek_bridge.jpg
A newly constructed cantilever bridge spanning 918 m, over Versova creek, has been opened for public use on 27 March in Mumbai.
The four-lane bridge has been constructed at a cost of Rs 247 crore, with the primary goal of easing traffic congestion along the Mumbai-Surat corridor.
The announcement regarding the opening of this road link was made by Union Minister Of Road Transport And Highways, Nitin Gadkari.
While sharing the blueprint image of the site, the Minister said, "Starting from the 27 March 2023, we will be opening a recently constructed 918-meter-long balanced cantilever bridge on Varsova creek, consisting of four lanes, which will provide significant traffic relief to the Mumbai-Surat corridor, particularly across the Varsova creek."
As per a report by Hindustan Times, currently, there are two bridges located on opposite ends of the Versova bridge near Ghodbunder on NH-8.
The bridge situated downstream was in poor condition and underwent renovation in 2013-2014. It was subsequently reopened to the public with a maximum load restriction of 15 tonnes.
In 2018, the National Highways Authority of India (NHAI) initiated the construction of a new four-lane Versova bridge, due to the high volume of traffic between Mumbai and Surat.
The project began on the Surat side of National Highway (NH)-8 and covers a total length of 2.25 km, which includes the 918 m balanced cantilever bridge and both approaches measuring 1.33 km.
Rajan Vichare, the MP from Thane, also visited the site of the bridge a couple of days back to review its progress.