Mumbai-Goa Highway: More Than 90 Per Cent Work Completed On Five Packages, Entire Highway To Finish By December 2023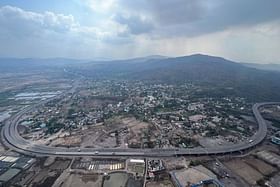 https://gumlet.assettype.com/swarajya/2023-03/cddef871-cbc4-48a9-8586-2370e6f3851c/Fsco_jNWwAAe3RW__1_.jpg
The work on Mumbai-Goa highway will be completed by December 2023, said Union Road Transport and Highways Minister Nitin Gadkari on Thursday (30 March).
Gadkari made the remark during the 'Bhoomi pujan' ceremony of the concretisation of the Palaspe-Indapur national highway stretch in Maharashtra's Panvel.
The route from Mumbai to Goa is covered by the Indapur-Zarap section of National Highway 66 and stretches across the coastal districts of Raigad, Ratnagiri and Sindhudurg in the state of Maharashtra.
The NH 66 starts from Panvel (Near Mumbai) and extends along the coast side of Sahyadri hill range (Western Ghats) through the states of Maharashtra, Goa, Karnataka and Kerala, connecting important cities like Pen, Mahad, Chiplun, Lanja, Rajapur, Kankavli, Kudal, Karwar, Udupi, Mangalore, Kasargod, Calicut and ends near Cochin at Junction of NH-47.
The total length of NH 66 is about 1,270 km out of which 482 km is through Maharashtra (Konkan region).
Four-Laning
Mumbai-Goa section of NH 66 is prone to accidents. Sharp twists and turns on the highway have resulted in several accidents. The widening of this entire highway, by making it four-lane, is expected to address this.
The widening of the NH66 is also expected to create a positive spin-off effect on connectivity, traffic movement, development of tourism and business in this region.
Status
The work of four-laning of Mumbai-Goa highway has been divided into 10 packages at an estimated cost of Rs 15,566 crore.
Out of these, two packages (P-9, P-10) in Sindhudurg district are almost 99 per cent complete.
There is a total of five packages in Ratnagiri district and out of these, two packages (P-4, P-8) have been completed to the extent of 92 per cent and 98 per cent respectively. For two packages (P-6, P-7) the stalled works have been resumed by appointing a new contractor.
Out of the three packages in Raigad district, two packages (P-2, P-3) have been completed 93 per cent and 82 per cent respectively. More than half of the work on package (P-1) has been completed and the remaining work will be completed soon.
Gadkari said that due to land acquisition process, delay in distribution of land acquisition compensation and delay in approval of forest land, the work could not be completed in time.
However, all matters have been resolved now and the work on the highway, which also connects JNPT and Dighi Port is progressing now.
According to the latest update, the work of four-laning of the 250 km stretch of the 356 km highway has been completed.
Impact
The Mumbai-Goa highway touches 66 tourism spots in Maharashtra's Konkan coast and once completed will boost tourism development.
As this road connects major industrial areas, it will also boost industrial development. Also agriculture and horticulture transport will be facilitated with a boost to the business.
Connectivity to the Konkan region is crucial for taking Maharashtra's development prospects to the next level.