NCC, AIC Infra Among Seven Companies In The Race To Set Up Dahod Loco Factory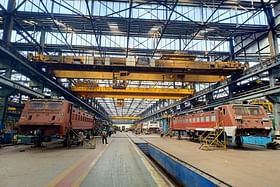 https://gumlet.assettype.com/swarajya/2023-03/6d8a01c0-9445-4318-abee-3bcf38d9efa7/2022_10_15.jpg
In a good response, Nagarjuna Construction Company (NCC), AIC Infrastructure, SMS India are among seven companies who have submitted bids for the Rs 644 crore project involving setting up of an electric loco manufacturing unit at Dahod in Gujarat.
Indian Railways is setting up a modern locomotive factory to manufacture electric locos with 9,000 horsepower (HP) capacity at Dahod.
The other bidders are GHV India, Power Mech Projects, SCC Infrastructure and CRS Construction who have entered the race.
The selected bidder will be responsible for design, engineering, procurement, construction, completion, testing and commissioning of the electric loco manufacturing unit at Dahod in 20 months, after getting the contract award.
The tender committee is currently evaluating the technical qualifications of all these seven companies to be followed by the opening of the financial bid, said a senior Railway Ministry official.
Dahod factory will be Gujarat's first and India's fourth railway manufacturing unit after Chittaranjan Locomotive Works, Banaras Locomotive Works and Patiala Locomotive Works, while two loco factories are operational at Madhepura and Marhora in joint ventures.
Preparing work for setting up the factory at Dahod is nearing completion. The project envisages installation of heavy machinery at an estimated cost Rs 460 crore and setting up of a car body shell at an estimated cost of Rs 160 crore.
Siemens has bagged a contract with the Indian Railways for the manufacture and maintenance of 1,200 electric freight locomotives and the maintenance of these locomotives for 35 years at the railway factory at Dahod.
The company will also maintain the locomotives at four depots of Indian Railways, namely, Kharagpur, Pune, Visakhapatnam, and Raipur for 35 years using human resources employed by the Indian Railways.
According to the Railways, suitable economic drivers will ensure complete indigenization of the manufacturing, which in turn will lead to the development of ancillary manufacturing units making it a true 'Make in India' initiative.
This project is expected to generate employment opportunities and develop the Dahod region.
The induction of high-horsepower electric locomotives into Indian Railways' fleet was expected to be used on the Western dedicated freight corridor, to improve the speed of container freight trains by up to 75 kmph in a double-stack configuration.