Parandur Airport: High-Level Committee Formed To Look Into Environmental And Land Acquisition Issues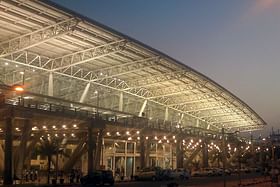 https://gumlet.assettype.com/swarajya/2022-06/91a6d86c-c425-4075-a4b0-38b8537cce1f/Chennai_International_Airport__Wikipedia_.jpg
The work on Chennai's second airport at Parandur may soon see the light of the day.
This comes in the backdrop of the State government constituting a high-level technical committee to delve into the issues and concerns of the local people and give recommendations for taking up the project.
In August 2022, Chief Minister M K Stalin had announced that a greenfield airport would be built in Parandur, located around 15 km northeast of Kanchipuram, at an investment of Rs 20,000 crore with a capacity to handle 100 million passengers per annum.
The project with a total area of 4,791 acres covering about 13 villages has seen vociferous protest with residents consistently objecting to it as they will have to give up their land, severely affecting their livelihoods.
Also, out of the total land area required for the airport, more than 50 per cent (2,605 acres) are wetlands. Many activists and experts, apart from the villagers, had voiced their dissent, fearing that it may cause serious damage to the environment.
To put things into perspective, residents of Ekanapuram village, one of the 13 villages to be affected by the Parandur airport passed a resolution against the project during a Gram Sabha meeting held on 26 January this year – this was the fourth time such a resolution was passed.
Subsequently, the State government had assured the setting up of a technical committee to analyse and recommend measures for mitigating the impact and conserve waterbodies and also find an effective solution for the land acquisition issues for the villagers, including the farmers.
The Committee
The high-level committee (HLC) will have seven-member with experts from different fields to look into the environmental and land acquisition issues, as reported by The Hindu.
The committee to be headed by a retired IAS officer will have Hydrogeological experts from IIT Madras and Anna University and officials from the State government including the Water Resources Department, the Commissionerate of Land Administration, TIDCO and the Kancheepuram Collectorate.
Initially, they will examine the detailed data submitted to them regarding the land, the number and extent of waterbodies and other factors impacting the environment.
Subsequently, the HLC will conduct further meetings and field-level inspections before submitting its report.
Site Clearance
Earlier, in January 2023, the Tamil Nadu Industrial Development Corporation (TIDCO) had filed the application for site clearance for airport at Parandur to the Ministry of Civil Aviation's steering committee.
Further, TIDCO is in the process of finalising a consultant to draft a detailed Techno-Economic Feasibility Report (TEFR) for the new airport near Chennai.
The TEFR report will comprise everything from a master plan, survey, financial model to social impact study for the second airport.