Provide Digital Load Display On Dashboard To Eliminate Harrasment, Gadkari To Automakers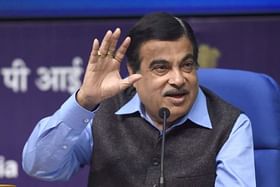 Aiming at elimination of the scope of harassment by transport and traffic department personnel, Union Road Transport Minister Nitin Gadkari has asked automobile manufacturers to provide the inbuilt feature of automatic digital display of load on the dashboard of all heavy commercial vehicles, particularly trucks.
Overloading is a menace on Indian roads and also a cause for fatal crashes.
Gadkari, while addressing the meeting of the apex technical committee on vehicle standards (CMVR-TSC), suggested the solution to end the scope of the law enforcing agencies using their discretion.
The CMVR-TSC has representatives from the industry, government bodies and vehicle testing agencies.
Though earlier the Road Transport Ministry had increased the axle load considering better designs of commercial goods vehicles and improved roads, the norms are violated in impunity.
According to the Ministry, the only solution lies in technology to end human inference and subjective assessment.
The minister has made the right suggestion to eliminate the possibility of harassment by transport and traffic department staff.
As per the amended Motor Vehicle Act, driver, vehicle owner and also those booking their goods for transport are responsible for overloading and they can be penalised.
The committee took up the issue of formulating a standard for detecting driver drowsiness. Some of the experts have suggested including a feature that will automatically alert drivers so that they can prevent a crash.