Railway Minister Conducts Trolley Inspection Of Chenab Bridge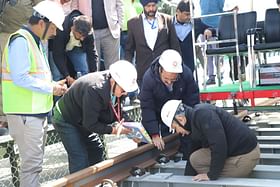 https://gumlet.assettype.com/swarajya/2023-03/4e0fb70e-5ac7-448f-8fc3-32da0ebc0da7/IMG_20230326_WA0038_1.jpg
Reviewing the progress of the construction of Chenab bridge — world's highest rail arch bridge — Union Railways Minister Ashwini Vaishnaw conducted the trolly inspection of the rail line and the tunnels of the Kashmir rail link project.
Appreciating the hard work of the railway staff involved in the work, Vaishnaw gave instructions to officials for its timely completion.
According to the Railways, the project got an allocation of Rs 6,000 crore in 2022-23, while Rs 800 crore was allocated per year before 2014. The national project is expected to be completed by February 2024.
After connecting Udhampur with Baramulla via Srinagar, Vande Bharat train service will be started on the route, Vaishnaw said, adding that all efforts are being done to complete the remaining work.
The project is crucial as its completion would connect Kashmir Valley with the rest of the country. The bridge is being constructed in difficult terrain and there are many challenges to execute the work.
The Railway Minister also said that a Special Training Academy for Engineers will be created at Jammu.