Safety First: Japanese Firm JE Appointed For Core Shinkansen Technologies Work On Mumbai-Ahmedabad Bullet Train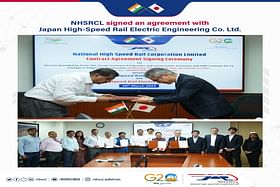 https://gumlet.assettype.com/swarajya/2023-03/20b7b363-109e-4462-b4b5-4d35f8a60801/FrqY68RaYAIfRMj__1_.jpg
The National High Speed Rail Corporation Ltd (NHSRCL) has appointed Japan High-Speed Rail Electric Engineering (JE) for the execution of the core Japanese Shinkansen technologies works related to the safety and punctuality of the Mumbai-Ahmedabad bullet train.
JE, a Japan government nominated special purpose company, will be carrying out the works related to OCC (operation control centre) design contract, production and construction contracts for E1 package of the bullet train.
An agreement to this effect was signed between NHSRCL and JE on 20 March in New Delhi.
This shall speed up the works related to the core Shinkansen technology and ensure the same level of safety and quality as followed in Japan.
India's First Bullet Train Project
Presently, the Mumbai-Ahmedabad High-Speed Rail (MAHSR) is the only sanctioned high-speed rail project in the country.
The high-speed rail operating at 320 kmph will traverse along west India's landscape, covering 508.17 km distance between Mumbai and Ahmedabad in just about two hours.
This will save time compared to current travel time between the two terminal stations by about nine hours (by bus) or six hours (by conventional railways).
It will cover 155.76 km in Maharashtra, 4.3 km in the Union Territory of Dadra and Nagar Haveli and 348.04 km in Gujarat, with 12 stations en route.
The project, being executed by NHSRCL has progressed 25 per cent as against a 30 per cent target, at the end of January 2023 with the total cost incurred at Rs 36,722.60 crore.
According to the report prepared by NHSRCL and submitted to the railways, overall physical progress is 25.63 per cent as against the target of 30.06 per cent till January 2023, a shortfall of 4.43 per cent.
With the target shortfall of over 4 per cent, it would be tough to meet the August 2027 target to make the over 300-km-long route operational in Gujarat.
Shinkansen Technology
Shinkansen, a term used to describe bullet trains in Japan, has been embraced in Taiwan, India and the United States.
The Japanese Shinkansen technology is known for its impressive safety records. In more than 55 years of its operations, there have been no train accidents because of technological failure.
According to NHSRCL, the high-speed train system will be fitted with the most advanced crash avoidance system and automatic brake application in case of overspeeding, among others.
Since the train will pass through some of the vulnerable seismic zones (Kutch, Koyna-Warna region, and Latur-Osmanabad), the rail corridor will be equipped with an early earthquake detection system.