Samruddhi Mahamarg: 80 Km Shirdi-Igatpuri Stretch Under Phase II To Open On 26 May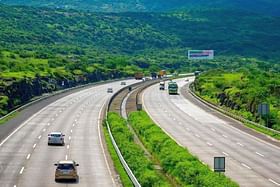 Another 80 km of Mumbai-Nagpur Samruddhi Mahamarg, between Shirdi and Bharvir village in Igatpuri taluka in Nashik district, will be ready for public use next week.
The Shirdi-Bharvir stretch will be inaugurated on 26 May by Chief Minister Eknath Shinde and Deputy Chief Minister Devendra Fadnavis, as reported by Indian Express.
The first phase of the Samruddhi Mahamarg, connecting Nagpur to the temple town of Shirdi in Ahmednagar district covering a distance of 520 km, has been in operation since December 2022, when Prime Minister Narendra Modi inaugurated it.
With the latest stretch getting ready to be inaugurated, a total of 600-km from Nagpur to Igatpuri taluka will be opened to the public.
The remaining 100-km stretch under Phase-II between Igatpuri and Vadpe in Thane will be completed by end of this year or by March next year.
Samruddhi Corridor
Officially named 'Hindu Hrudaysamrat Balasaheb Thackeray Maharashtra Samruddhi Mahamarg', the 701-km-long expressway connects Mumbai and Nagpur.
The expressway connects 10 districts of the state, namely, Nagpur, Wardha, Amravati, Washim, Buldhana, Jalna, Aurangabad, Nashik, Ahmednagar and Thane. The road link is said to be a game changer, especially for the state's hinterland, as more investments can be attracted with improved connectivity, thereby generating additional employment opportunities
The project is the brainchild of Deputy CM Devendra Fadnavis and was conceptualised when he was the chief minister in 2015.
At present, commuters use NH-3 (Mumbai-Dhule) and NH-6 (Dhule-Nagpur) to reach Nagpur, covering a 839 km distance which takes at least 17 hours. The greenfield expressway, once completed, will reduce the travel time between Nagpur and Mumbai to eight hours.
Up till January 2023, about 90 per cent of work has bene completed on the eight-lane expressway.
Rising Accidents
The expressway, popular among motorists despite lack of wayside passenger amenities, is witnessing a spate of accidents.
Since 11 December, when the phase 1 of the project was opened for vehicular movement, there have been over 900 accidents between Nagpur and Shirdi. The reasons vary from rash driving, overspeeding, tyre burst, overloading of passengers, sleep deprivation, highway hypnosis, etc.
A study conducted by Regional Transport Office (RTO) of Maharashtra government revealed that these accidents had claimed 31 lives till 20 March 2023.
To prevent such occurrence, a committee led by the RTO, state traffic police and an NGO have suggested the MSRDC to paint a few spots and put in place equipment that will produce the sound of police siren to keep drivers alert.
The Maharashtra State Road Development Corporation (MSRDC), is the project implementing authority for the expressway.