Sleeper Edition Vande Bharat Express: Indian Railways Issues Contract Award Letter For Production Of 120 Trains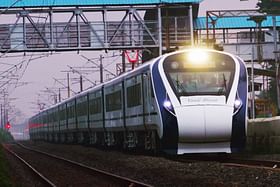 https://gumlet.assettype.com/swarajya/2022-11/d552b208-68ec-4d3f-b4ee-f40ad27cf71f/Fg7mQDjakAAjnn7.jpg
Indian Railways has issued letter of award (LOA) to TMH, the Russian rolling stock company, to start the necessary preparation for making 120 rakes at Latur.
"With the issue of this LOA , the contract stands concluded", the letter issued on March 29 by the Railway Stores Executive Director stated.
TMH-RVNL which quoted Rs 120 cr price per train is the lowest bidder in the just concluded tendering process for manufacturing of Vande Bharat trains with Sleeper coaches while Titagarh-BHEL quoting nearly Rs 140 cr per train is the second lowest bidder.  Till now Vande Bharat trains are operational with seating arrangement.
Titagarh-BHEL consortium, which had quoted a higher price than TMH-RVNL, was also communicated by the Railways to lower the price as a counter offer.
According to sources, both the bidders have accepted the offer and will soon communicate to the Railways.
Now TMH-RVNL has to deposit Rs 200 cr and Titagarh-BHEL to deposit Rs 160 cr as performance guarantee bond with the Railways as the next step in the Vande Bharat project worth Rs 50,000 cr with 35 years of maintenance provision.
The Vande Bharat with Sleeper facility will have one First AC, three Second AC and 11 Third AC coaches.
The ergonomically designed driver trailer coach at the front and rear side will be a Divyang-friendly facility.
According to sources, the interior panels and Sleeper berths of the Vande Bharat will be provided by Tata Steel as both Titagarh and TMH are in talks with Tata to finalise the job.
Tata Steel (New Materials Business) has an existing purchase order from ICF for Seats in 22 Vande Bharat Rakes with total worth of  Rs 145 cr and interiors for 16 Vande Bharat Rakes at a total order value of Rs 79 cr.
Tata New Materials Business has been having encouraging discussions with both TMH and Titagarh to be the complete interior solutions brand partner.
"We are trying for further orders for such Seats and Berths at competitive rates and working with the Railways to improve the specifications and quality to international standards based on Tata's worldwide supply capability for vehicles in all budget and luxury segments and collaborations with Indian and international partners," said a senior official of Tata Group.