UER-II: Significance Of Delhi's Third Ring Road And How It Will Decongest National Capital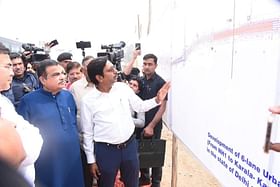 https://gumlet.assettype.com/swarajya/2023-03/931dc887-61de-4d11-b736-6f3a6ceb440e/FrU64jTWAAAm5q2__1_.jpg
Union Minister for Road Transport and Highways Nitin Gadkari on Thursday (16 March) inspected the progress of the Urban Extension Road Project (UER-II) in Delhi and promised to open the key arterial road by December 2023.
Swarajya explains what the project is and why is it critical to decongesting the national capital.
What is Urban Extension Road (UER)?
The UER-II has been proposed in the Delhi Master Plan as the third Ring Road of Delhi along the Western boundary.
The six-lane access controlled highway is being developed by the NHAI as a component of the Delhi Decongestion Plan, at a capital cost of Rs 7716 crore.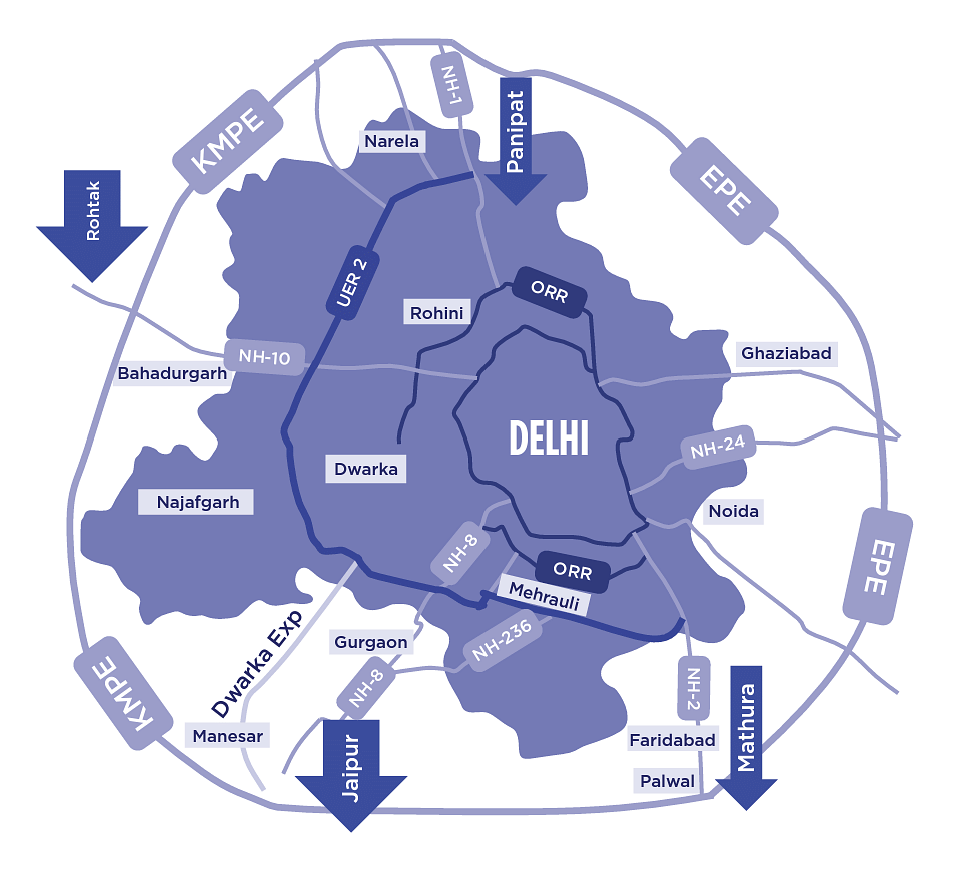 The UER-II will connect NH-1 to Dwarka and Bahadurgarh and form a Ring Road along the western range.
Why the need for a new road?
The National Capital territory of Delhi is a massive metropolitan area located in the heart of northern India. It is bordered by Haryana and Uttar Pradesh and thus attracts huge quantum of traffic not only from within Delhi but also surrounding region.
In order to cater to this regional traffic level, Inner and Outer Ring Roads for Delhi were planned many decades ago in 1962, of which only inner ring road could be completed whereas outer ring road is still not a full ring.
Additionally non-Delhi destined traffic i.e. traffic to/from North Indian states (Punjab, Northern Haryana, J&K, Himachal Pradesh) to remaining Indian states (Rajasthan, Southern Haryana, Gujarat, Maharashtra) has to pass through Delhi due to absence of alternate network, which leads to heavy congestion on the existing ring roads.
To address this issue and save Delhi through decongestion, the Delhi Development Authority (DDA) as part of the Delhi master Plan 2021 proposed UER-II as the third ring road of Delhi.
What is the alignment of UER-II ?
The total length of UER-II is 46.5 km, out of which 38.11 km is taken up as part of this project and a part alignment is being taken up with alignment of Dwarka Expressway. The complete length of the corridor falls in the state of Delhi.
The UER-II's alignment takes off from NH 1 (23.8 km) near village Bankoli and terminates near the junction of Sector 24 in Dwarka.
The route will connect NH-1 with NH-8 passing through Bawana Industrial Area, Rohini, Mundka Industrial Area, Najafgarh and Dwarka.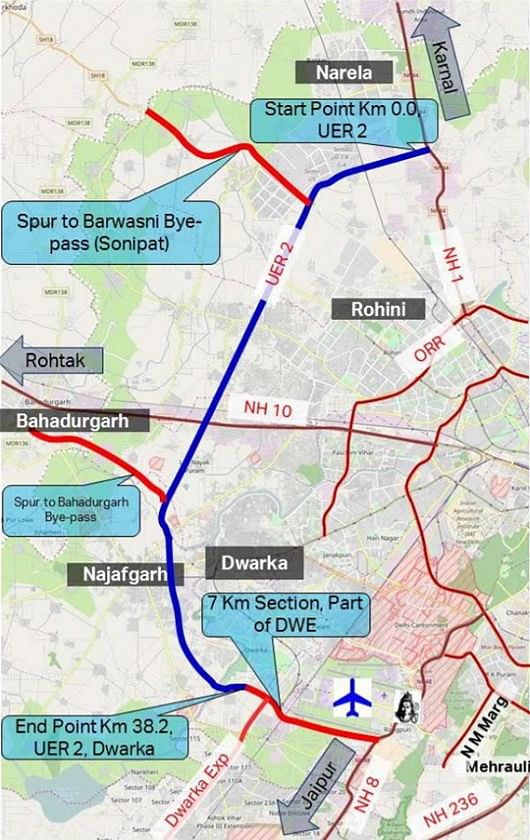 The alignment crosses Delhi-Karnal railway line, NH10 and Delhi-Rohtak rail line and merges with the contract package of UER-II taken up with Dwarka Expressway at Sector 24 which further connects it with Shiv Murti at NH8.
Dwarka Expressway meets UER at Sector 21 Junction in Dwarka and connects UER-II with Haryana till Nh-8 approximately 2 km before the Kherki Daula toll plaza.
In addition to the section of UER-2 two additional spurs to Barwasni by-pass (Sonipat) and Bahadurgarh By-pass are also to be developed.
What are the various packages in the project?
The 75.71 km project is being developed in five different packages.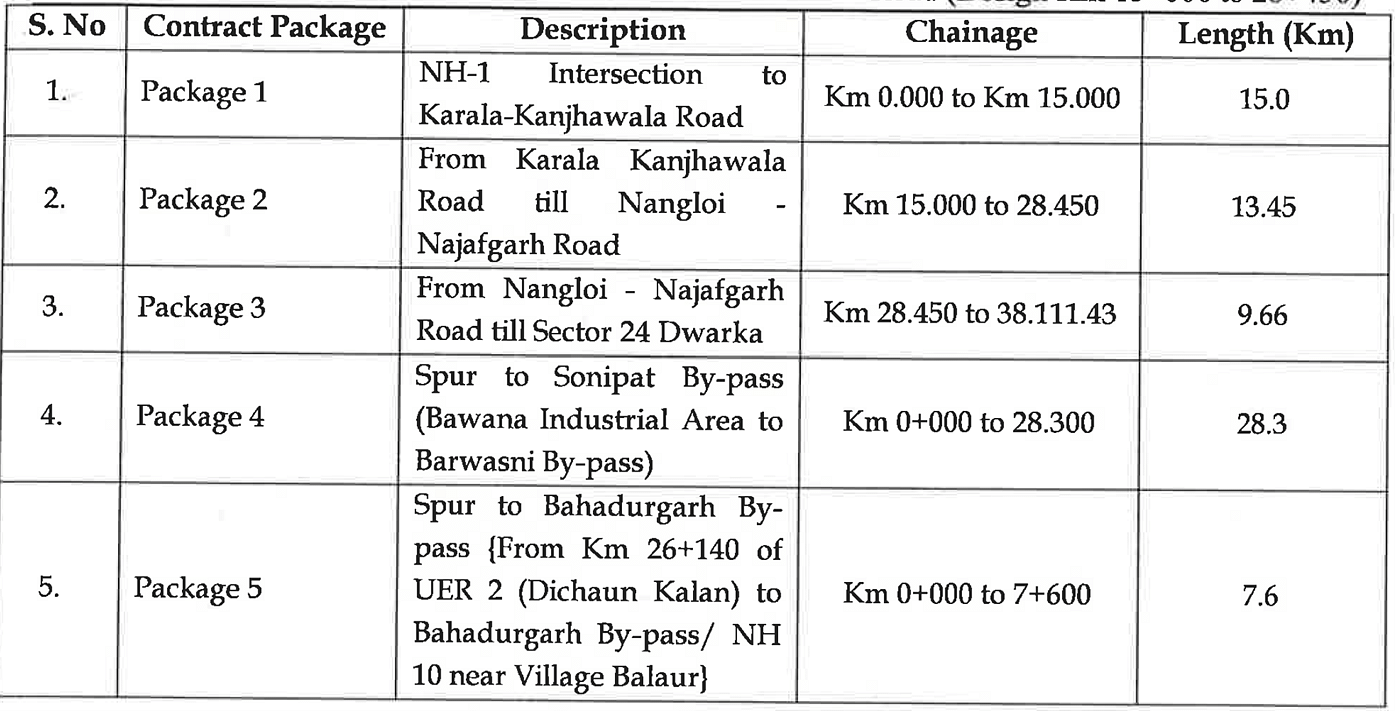 The first three packages (Pkg 1-3) have been together numbered as NH-344M and is the core of UER-II road.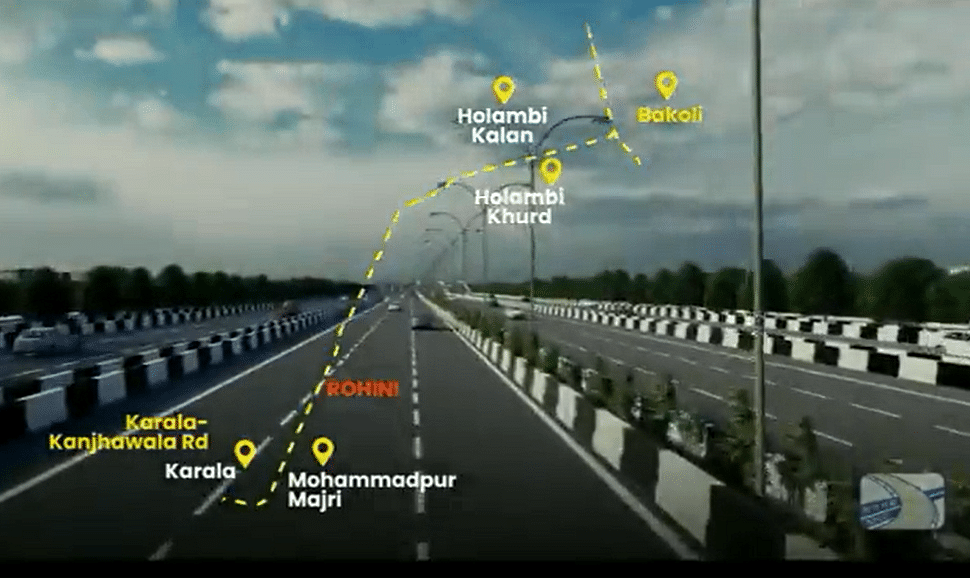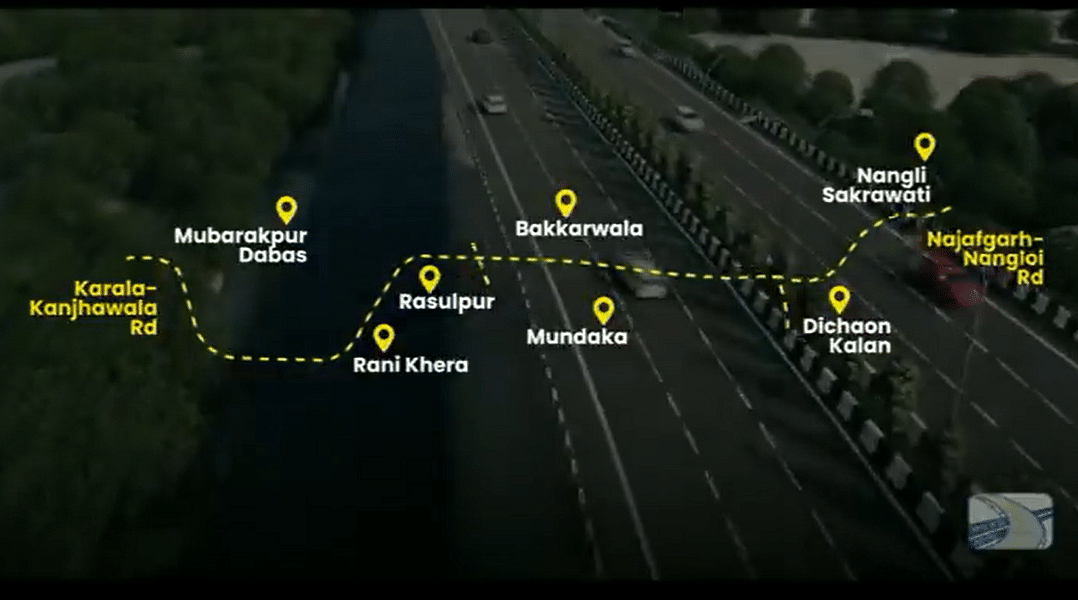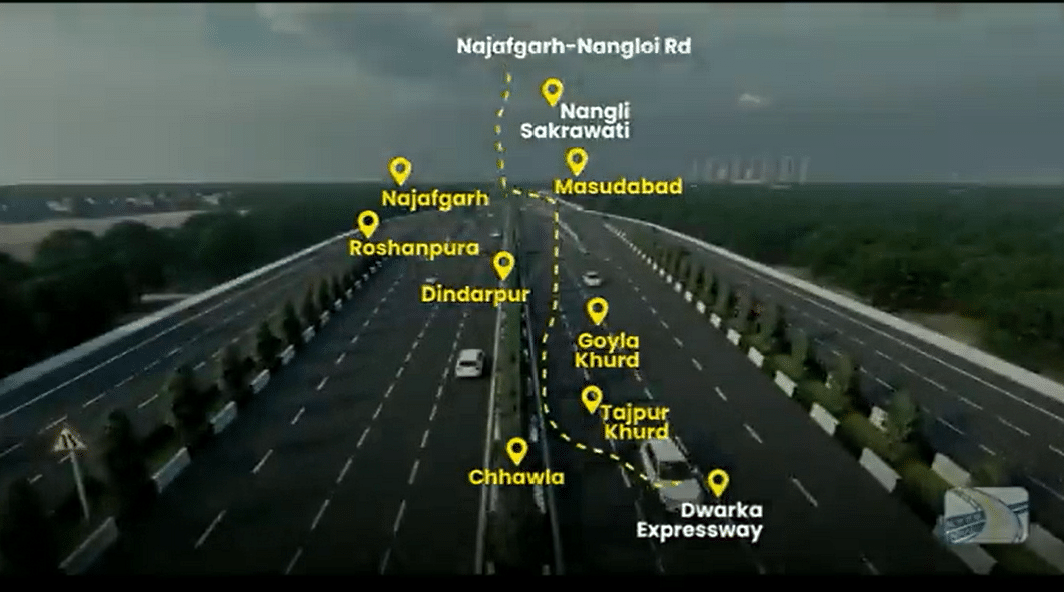 The fourth package (NH-344P) begins at NH-344M and end at NH-352A (Barwasini bypass), serving as a spur to Sonipat Bypass.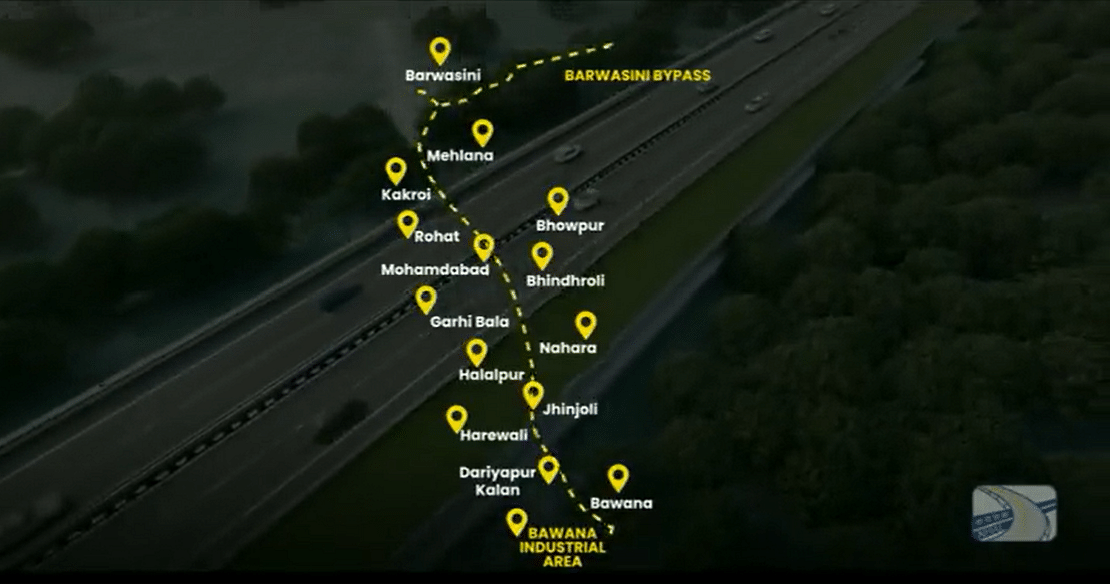 Similarly, the package 5 (NH-344N) is a spur to the Bahadurgarh bypass, connecting NH-344M (near Village Dhichaon Kalan) in Delhi to NH-10 (near Bahadurgarh).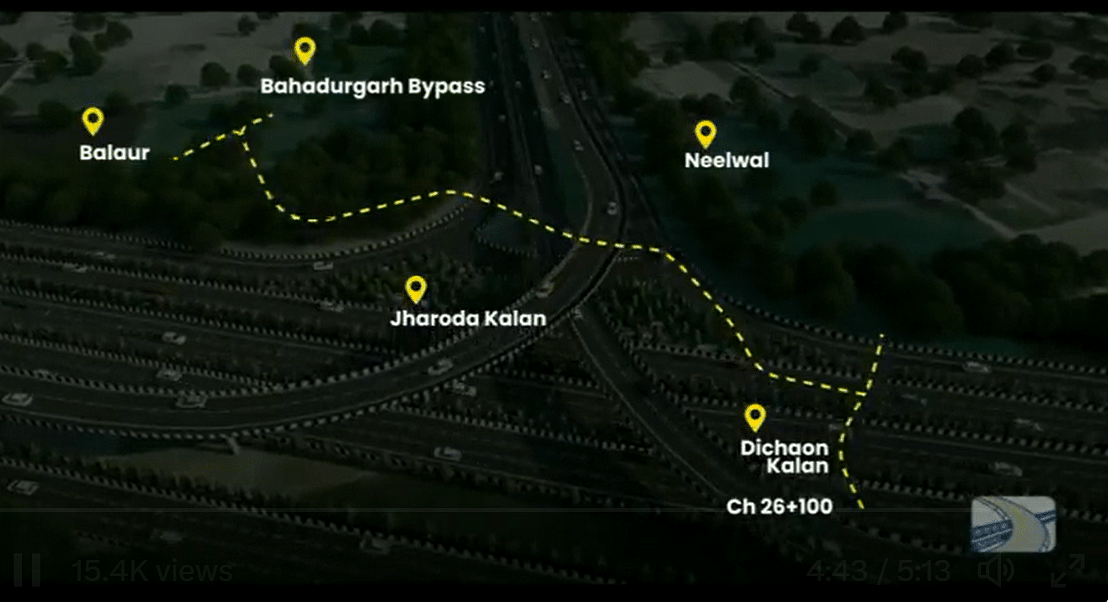 What is the current status of the project ?
Tenders for construction were invited by NHAI in December 2019 and construction contracts were awarded in 2021.
So far, 57 per cent of work is complete: 55 per cent on Package 1, 40 per cent on Package 2, 90 per cent on Package 3, 68 per cent on Package 4 and 67 per cent on Package 5.
While the NHAI had set a deadline of October 2023, Gadkari said it will be complete by December.
What are the unique features of this road ?
The road has been constructed using almost 20 lakh tonnes of plastic garbage sourced from Ghazipur landfill in Delhi. The waste is processed at micro plants near the construction site in Alipur and Karala.
The UER-II has 27 flyovers, 26 minor bridges, 11 underpasses and 17 pedestrian subways.
It will also be among the first national highways to be an e-highway. E-highways are an energy-efficient option where the road provides electricity to moving vehicles mostly through overhead power lines. As such to promote e-buses, e-trolleys and e-cars on the route, cables and other equipment will be installed along service lanes.
How it will solve the issue of traffic congestion?
1. NH-344M
The highway connects NH-44, NH-10 and NH-48.
It will serve as an additional western ring road in Delhi, offering an alternative route for traffic from West and South Delhi, IGI Airport, and Gurgaon heading towards Chandigarh, Punjab, J&K, Jaipur and Jhajjar in Haryana.
The route will help commuters from cities in Haryana and Punjab to Delhi airport within 20-30 minutes instead of the two-hour journey.
It also connects to the proposed IICC in Dwarka, improving traffic flow in Delhi.

2. NH-344P

This project will alleviate traffic on NH-44 and establish connectivity between Delhi, Kundli–Manesar–Palwal Expressway (KMPE), and Delhi-Katra Expressway via KMPE.

3. NH-344N

The 4-lane highway eases congestion on NH-10 in Delhi and improves connectivity between Eastern Haryana and Kanjhawala in Delhi, as well as a shorter connection between Delhi and KMP Expressway.