Uttarakhand To Get First Vande Bharat On 25 May, PM To Flag Off Semi-High Speed Train On Delhi-Dehradun Route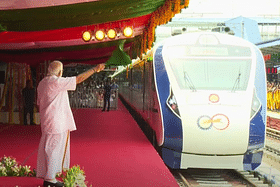 In a first for the hill state of Uttarakhand, the first Vande Bharat train connecting Dehradun and Delhi will be flagged off by Prime Minister Narendra Modi virtually on Thursday (25 May).
The inaugural run will be held on 25 May from Dehradun, departing at 11 am. The 22458 /22457 Dehradun-Anand Vihar Terminal-Dehradun Vande Bharat express will commence its commercial journey starting 29 May and will run six days in a week except Wednesday in an eight-coach car configuration.
The semi-high-speed train will cover the distance between the two cities in just four hours and forty-five minutes, with stoppage at Haridwar, Roorkee, Saharanpur, Muzaffarnagar, and Meerut stations en route in both directions.
The Vande Bharat between Delhi-Dehradun, unlike the ones on other routes, is not strictly a daytime train. Starting from Dehradun at 7 am, it will arrive at Anand Vihar Terminal at 11.45 am. In the return journey, the train will leave Anand Vihar at 5.50 pm and will reach Dehradun at 10.35 pm.
The train will provide a faster, more comfortable and more convenient travel experience for rail users, boost tourism and promote economic development in the region.
17th Vande Bharat
The Delhi-Dehradun Vande Bharat will be the 17th such trainset in the series. Earlier on 18 May, the Prime Minister flagged off the 16th Vande Bharat Express between Puri and Howrah.
The Puri-Howrah Vande Bharat marked the debut of India's first semi-high-speed train in the coastal state of Odisha. The train passes through Khordha, Cuttack, Jajpur, Bhadrak, and Balasore districts in Odisha and Paschim Medinipur, and Purba Medinipur districts in West Bengal.
The first Vande Bharat (VB) train was flagged off on the New Delhi-Kanpur- Allahabad-Varanasi route on 15 February 2019.
Presently, 16 pairs of Vande Bharat Express are in operation over the Indian Railways (IR) network.
Five VB trains from Delhi to — Ajmer, Varanasi, Shri Mata Vaishno Devi Katra, Bhopal and Amb Andaura in Himachal Pradesh.
Three VB trains from Mumbai to — Gandhinagar, Shirdi and Solapur.
Two VB trains from Chennai to — Mysuru and Coimbatore
Two VB trains from Telangana's Secunderabad to — Visakhapatnam and Tirupati
Two VB trains from West Bengal's Howrah to — New Jalpaiguri and Puri
VB trains are also operational on Nagpur-Bilaspur and Thiruvananthapuram-Kasaragod routes.
Race against time
The railways have set a target to run at least 75 Vande Bharat trains by August 2023, to mark 75th anniversary of India's Independence — Azadi ka Amrit Mahotsav. Therefore, the Ministry of Railways had streamlined the production of the Vande Bharat rakes, and it is all set for the back-to-back inauguration of new trains.
As such, Mumbai to Goa, Ranchi to Patna, Guwahati to New Jalpaiguri, are some of the routes on which the Vande Bharat Express will run in the coming days as the signature offering from Indian Railways aims to touch all states.