Vande Bharat Train To Cover All States By June-End, Says Railway Minister Ashwini Vaishnaw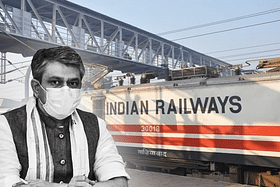 Barring a few, Vande Bharat train would cover all states by June-end this year, said Railway Minister Ashwini Vaishnaw.
Talking to Swarajya, Vaishnaw said currently Vande Bharat train cannot run in Tripura because the route electrification is not complete yet in the state.
The route electrification from end to end is a must for Vande Bharat train to run in a particular section as the semi-high speed train cannot function without electrification.
"Our target is to manufacture 400 Vande Bharat trains and our aim is to cover all states," he said.
On the introduction of Sleeper coach in Vande Bharat train, he said the Sleeper design for Vande Bharat is being ready now  and manufacturing of Sleeper Vande Bharat would start in March 2024.
At present Vande Bharat train is having seating arrangement only with Executive Class and Chair Car.
The Vande Bharat with Sleeper coach would also run at maximum speed of 180 kmph with operational speed of 160 kmph.
Asked about the varying number of coaches of Vande Bharat train, he said the configuration could be 8, 12, 16 or 20 depending upon the traffic requirement.
The interior of the coach, bogie design, electrics and vehicle control systems of the Sleeper coach are being worked out and the manufacturing would start at MCF, Latur besides ICF.
On the speed, the Railway Minister said work on track upgradation is going on and the speed will go up on the upgraded track.
Referring to Vande Metro, he said Vande Metro will run 100 km distance connecting city and suburban areas.
He said Vande Metro is a new design and it will be an inter-city Metro for short distance with high frequency for commuters.
The prototype of Vande Metro to be ready by March 2024, he added.
Asked about the possibility of another Vande Bharat for Odisha after the launch of Puri-Howrah Vande Bharat Express  he said there could be another such train in the state on Rourkela-Jharsuguda route.
He said the Railways is getting much increased allocation now. "Earlier the Railways used to get Rs 40,000 crore Gross Budgetary Support now it is getting over Rs 2 lakh crore GBS. We are adding new lines including doubling and multi-tracking in a year which means the entire rail network of Switzerland is being added every year".