Zooming Through Highways: GPS-based Toll System To Be Introduced In six Months, Will Replace Toll Plazas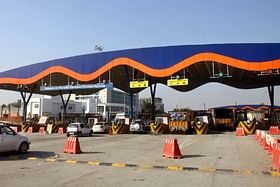 https://gumlet.assettype.com/swarajya/2022-01/d610ae19-a0b0-4054-94c8-920fc5fe7e24/d3f26fb5_8f58_476a_a14b_ac78fec61cff.jpg
New toll collection system based on advanced technologies including GPS-based systems will be introduced in the next 6 months.
This was said by Union Road Transport Minister Nitin Gadkari while addressing an event organised by industry body Confederation of Indian Industry (CII).
"The government is looking at new technologies including GPS-based toll systems to replace toll plazas in the country…We will bring new technology in six months," he said.
Currently, about 97 per cent of the total toll collection of nearly Rs 40,000 crore happens though FASTags, the RFID-based cashless toll collection method. Remaining 3 per cent vehicles pay higher than normal toll rates for not using FASTags.
During 2018-19, when the highways had manual toll collection lane, the average waiting time for vehicles at toll plaza was 8 minutes. With the introduction of FASTags, the average waiting time at the toll plaza has reduced to 47 seconds.
Further, with FASTags, there is a marked throughput enhancement- more than 260 vehicles can be processed per hour via electronic toll collection lane as compared to 112 vehicles per hour via manual toll collection lane, according to government data.
However, despite easing traffic at toll plazas across the country, congestion is still reported as there are toll gates that need to be crossed after authentication.
The move to replace existing highway toll plazas in the country with tech-based toll collection is aimed at reducing traffic congestion and charging motorists for the exact distance travelled on the highways.
As such, the government is currently looking to ANPR and GPS technology as two of the options for toll collection.
Automatic Number Plate Reader (ANPR)
The National Highways Authority of India (NHAI) has appointed a consultant agency for detailed study on Automatic Number Plate Recognition (ANPR) technology.
In this system, applicable user fees is deducted from bank account based on the entry and exit of the vehicles as captured by ANPR cameras installed at various entry and exit locations.
A pilot implementation of the ANPR based system has been implemented along stretches of Delhi-Meerut Expressway (DME).
The plan is to remove toll plazas on national highways and instead rely on ANPR cameras, which will read vehicle number plates and automatically deduct toll from the linked bank accounts of vehicle owners.