11 Out Of 21 Approved Greenfield Airports Operationalised: Govt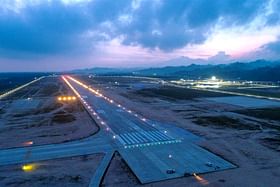 https://gumlet.assettype.com/swarajya/2022-11/7c773d69-b296-433d-9c18-63a4eed243bd/Screenshot__94_.png
The government on Monday (13 March) said that it had given in-principle approval for setting up 21 greenfield airports in the country, out of which 11 airports have been operationalised.
In a written reply to a question in the Rajya Sabha, Union Minister of State for Civil Aviation General (Retired) V K Singh said that under the greenfield airports policy (GFA), Centre accorded 'In-Principle' approval for setting up of 21 greenfield airports.
These airports included Mopa in Goa, Navi Mumbai, Shirdi and Sindhudurg in Maharashtra, Kalaburagi, Vijayapura, Hassan and Shivamogga in Karnataka, Dabra (Gwalior) in Madhya Pradesh, Kushinagar and Noida (Jewar) in Uttar Pradesh, Dholera and Hirasar in Gujarat, Karaikal in Puducherry, Dagadarthi, Bhogapuram and Orvakal (Kurnool) in Andhra Pradesh, Durgapur in West Bengal, Pakyong in Sikkim, Kannur in Kerala and Itanagar in Arunachal Pradesh.
"Out of these, 11 Greenfield airports viz. Durgapur, Shirdi, Kannur, Pakyong, Kalaburagi, Orvakal (Kurnool), Sindhudurg, Kushinagar, Itanagar, Mopa and Shivamogga have been operationalised," the minister said.
Further, the Centre has also granted the first stage clearance i.e. site clearance for construction of three greenfield airports namely Alwar in Rajasthan, Singrauli in Madhya Pradesh and Mandi in Himachal Pradesh, he added.
The responsibility of implementation of airport projects including funding of the projects rests with the concerned airport developer including the respective state government (in case the state government is the project proponent), the minister said.
The minister informed that the Centre had formulated a Greenfield Airports (GFA) Policy, 2008 which provides detailed guidelines, procedures and steps related to construction of greenfield airports across the country.
Under the GFA Policy, the project proponent- an airport developer or the respective State Government willing to establish a greenfield airport is required to send a proposal to the Ministry of Civil Aviation in the prescribed format for two-stage approval process i.e., 'Site Clearance' followed by 'In-Principle' approval.