20 Per Cent Ethanol-Blended Petrol Now Available In 15 Cities, Nation-Wide Supply By 2025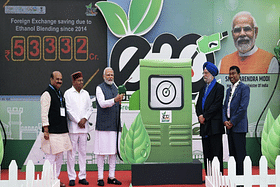 https://gumlet.assettype.com/swarajya/2023-02/53965106-90bd-4ca3-aac0-1a9f89e5411a/Screenshot_2023_02_07_084824__1_.png
Prime Minister Narendra Modi on Monday (6 February) officially launched the ethanol-blended fuel E20 at the India Energy Week (IEW) 2023 in Bengaluru.
The launch done two months ahead of the scheduled rollout in April is a historic milestone for India's Ethanol Blending Program (EBP).
E20 which is a blend of 20 per cent ethanol and 80 per cent petrol is the next generation fuel to curb pollution and boost farmers income through agri-waste management.
In the first phase, 15 cities across 11 states and Union Territories of Delhi, Bihar, Uttarakhand, Himachal Pradesh, Uttar Pradesh, Haryana, Karnataka, Maharashtra, Punjab, Daman Diu and Dadra & Nagar Haveli will be covered.
These cities will get E20 fuel through 84 outlets run by Indian Oil Corporation.
Ethanol Blending
Pure ethanol – 100 per cent ethanol or E100 – could theoretically be used to power vehicles, but generally isn't, due to technical challenges and lack of financial viability.
Ethanol thus is mixed with petrol to form different blends. The commonly used blends are E5 (5 per cent ethanol, 95 per cent petrol), E10 (10 per cent ethanol, 90 per cent petrol), or E85 (85 per cent ethanol by volume and known as flex fuel).
Ethanol extracted from sugarcane as well as agricultural waste is being mixed with petrol to cut India's dependence on imported oil for meeting its energy needs. Also, ethanol has a lower carbon footprint than fossil fuels, helping the nation meet its climate targets.
Ethanol Blending Program (EBP)
India achieved blending of 10 per cent ethanol in petrol (E-10) in June, well ahead of the deadline of November 2022.
With 10 per cent blending, the country has saved a forex outgo of Rs 53,894 crore, and also reduced CO2 emissions by 318 LMT.
The Government in June 2021 had advanced the nation-wide availability of E20 blended petrol to 2025, five years earlier from that planned in 2030.
The 'National Policy on Biofuels' notified by the government in 2018 targeted 20 per cent ethanol blending in petrol by the year 2030. However, with encouraging results from E 10 initiative, the target of 20 per cent ethanol blending was advanced from 2030 to 2025-26.
The current experimental supplies of 20 per biofuel mixed petrol is a part of this target and in the next two years its retailing would be expanded throughout the country.