5,673 Drones Registered In India By December 2022, Delhi Leads With 1,272 UAVs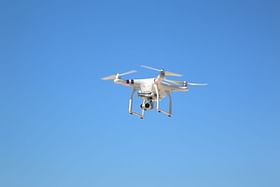 https://gumlet.assettype.com/swarajya/2023-02/20148d84-a3f9-4246-8293-ce2f05006a1a/pexels_joseph_redfield_8459526.jpg
As many as 5,673 drones have been registered in the country until December 2022, as per the data submitted by the union government in the ongoing session of parliament.
The Drone Rules, 2021 requires any person owing a drone to apply for registration and obtain a Unique Identification Number (UIN) through the DigitalSky Platform.
Further, the Directorate General of Civil Aviation (DGCA) has to maintain a registration record of all such drones to which UIN has been issued under the Rules.
DigitalSky is an online platform hosted by the DGCA for various activities related to the management of unmanned aircraft system activities in India.
While only 502 drones were registered in 2021, 5,171 drones were registered in 2022. A maximum of 1,272 drones have been registered in Delhi followed by 908 in Haryana, 721 in Maharashtra, 705 in Karnataka, 379 in Tamil Nadu and 358 in Telangana.
In Gujarat, 184 drones were issued UINs, while in Uttar Pradesh 136 drones have UINs, in Uttarakhand 129 drones have UINs and in West Bengal 122 drones have UNIs.
Andhra Pradesh, Bihar, Chhattisgarh, Madhya Pradesh, Odisha and Rajasthan are some major states with less than 100 drones registered.
Drones are Unmanned Aerial Vehicles (UAVs) or Remotely Piloted Aerial Systems (RPAS) that are controlled either by a pilot on the ground or with the help of technology.
The usage of unmanned aircraft systems or drones to capture aerial views of events, infrastructure projects, industries, forests, real estate projects and others has increased, with the increase in the availability of flying cameras. This explains the rise in drone registration across the country.
The central government has organized Drone melas in states across the country, to highlight the use of policy reforms and to create awareness about the mechanism of obtaining certification, registration, remote pilot licenses and insurance for drones.
Asteria Aerospace's A200 Micro drone was the first drone to be registered in the country with an UIN of U0000001.