ADB Extends Over Rs 1,000 Crore Loan To Upgrade JNPT Container Terminal In Navi Mumbai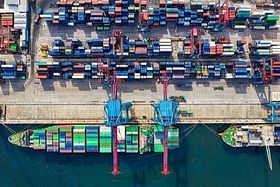 https://gumlet.assettype.com/swarajya/2022-07/5147fcee-2741-4fe3-97d9-9f83e3cce5e2/Krishnapatnam_port__AP_.jpg
The Asian Development Bank (ADB) and Nhava Sheva Freeport Terminal Private Limited (NSFTPL) signed a $131 million (around Rs 1,069 crore) loan to upgrade the Jawaharlal Nehru Port Container Terminal located in Navi Mumbai of Maharashtra.
The financing package comprises $61.4 million from ADB's ordinary capital resources and $69.6 million from Leading Asia's Private Infrastructure Fund (LEAP) administered by ADB.
The funds will be used to upgrade existing berths and yards and install additional energy efficient equipment such as electric quay cranes.
These upgrades will expand the terminal's container handling capacity and attract vessels operating on important international shipping lanes.
"Long-term financial support from ADB can boost economic competitiveness in India by developing world-class mega ports and boosting the efficiency of containerized cargo terminal operations," an ADB official said.
"Nhava Sheva Freeport Terminal is a key terminal for the country and this deal underscores India's potential in becoming a $10 trillion economy by 2035," said NSFTPL Board member Dhruv Kotak.