Agra Metro: 6 Km Priority Corridor To Open Six Months Ahead Of Schedule In Early 2024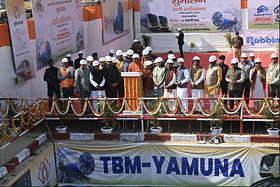 https://gumlet.assettype.com/swarajya/2023-02/1ab24f02-e153-4805-987a-ef92d59c9730/Screenshot_2023_02_07_111015__1_.png
The Priority Corridor of Agra Metro will be operational for the people of Agra, by the beginning of 2024.
Uttar Pradesh Chief Minister Yogi Adityanath on Monday (06 February), while inaugurating the tunnelling work for the Agra Metro Rail Project said, "The priority corridor of six kilometres would be completed ahead of the six months of the scheduled target and Metro services will be operational for the people of Agra by the beginning of 2024."
Agra Metro Rail Project aims to provide safe, reliable, affordable and environment-friendly public mass rapid transit system for the city that receives a very large numbers of tourists, both local and foreign.
The 29.4 km Agra Metro has two corridors with 27 stations.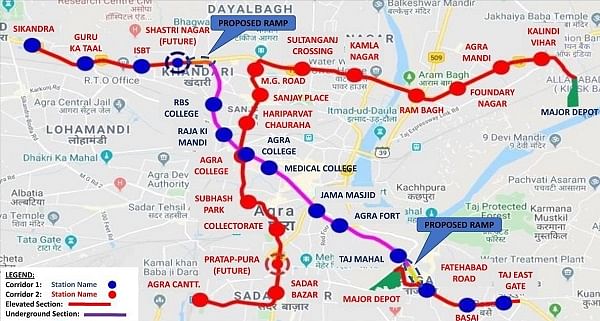 The 14 km long first corridor between Taj East Gate and Sikandra is now under development. Up to 13 stations, including six elevated and seven underground, will be built along this corridor.
The 15.4-km-long second corridor will be completely elevated and will have 14 stations between Agra Cantt and Kalindi Vihar in Agra City.
Tunnelling Work
The building of the Agra metro rail tunnel was officially launched at a ground-breaking ceremony, held at Ramlila Maidan in front of the Agra Fort.
Inspired by the names of rivers, the excavation work of the tunnel and seven underground stations will be done through two tunnel boring machine (TBM) named 'Yamuna' and 'Ganga'.
Each TBM is approximately 85 metres long and weigh around 450 tonnes. Up to 10-12 metres of tunnel will be prepared daily by each TBM.
The Uttar Pradesh Metro Corporation (UPMRCL) will build two parallel tunnels for the up and down tracks in the Agra Metro's underground section.
Priority Corridor
The Priority corridor is a 6-km stretch on Corridor 1 and runs from Taj East Gate to Jama Masjid.
It would have three elevated metro stations — Taj East Gate, Basai and Fatehabad Road along with three underground metro stations —Taj Mahal, Agra Fort and Jama Masjid.
Currently, the work on 4-km elevated section of priority corridor is nearing completion — civil work on all the three stations have been completed.
Work on Metro rail depot inside 15th Battalion PAC premises for the operations and upkeep of metro trains is also completed.
The Chief Minister stated that although the priority corridor was supposed to be finished by August 2024, the authorities were pressing forward with a full commitment to finish the project six months earlier, while adhering to all environmental regulations and Taj Trapezium Zone (TTZ) requirements.