Alstom, Medha-Stadler Enter Race To Make 100 Lightweight Vande Bharat Trains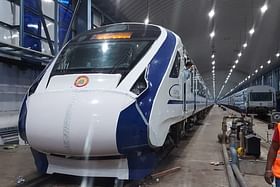 https://gumlet.assettype.com/swarajya/2022-10/c679be01-2cc6-40dc-be05-7bfc66e9d637/Feb_XoxaYAAKQ91__1_.jpg
Two major rolling stock giants — Alstom and Medha — have joined the race for manufacturing 100 light weight Vande Bharat trains with sleeper facility and a speed of 200 kmph.
The Railways opened the bids worth Rs 28,000 crore on Thursday (23 February).
While Alstom has not partnered with any one, Medha is understood to have tied up with the Swiss company Stadler for the ambitious project.
This is for the first time, the Railways is opting for an aluminum coach with Sleeper facility for Vande Bharat trains. The 16-coach light weight Vande Bharat would be designed for maximum speed of 220 kmph and operational speed of 200 kmph.
Like other Vande Bharat trains, the light weight ones will also have a distributed power system. The manufacturer of 16-coach light weight Vande Bharat will also be maintaining the trains for 35 years.
According to the Railways, while the 16-coach train is estimated to cost Rs 130 crore, the 35-year maintenance is to cost Rs 15,000 crore. So the semi-high speed train project is estimated to cost Rs 28,000 crore.
The Railways maintain that the bids of the two parties would be examined now and after the technical evaluation, the financial bid would be opened.