Bridge Over Betwa; Bhopal-Kanpur Economic Corridor, And 16 Other Projects That Nitin Gadkari Inaugurated In Madhya Pradesh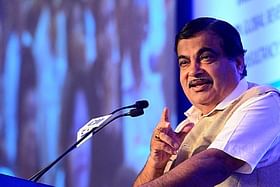 https://gumlet.assettype.com/swarajya/2021-09/5c2aee5d-ca6f-4a53-ad76-43fd712ea6b9/de4c8556_ef8b_44b2_a300_85ad8b271f1e.jpg
Fulfilling the decades old long demand of the local population, Union Road Transport and Highways Minister Nitin Gadkari, has inaugurated a bridge over River Betwa, facilitating the connectivity for Orchha, Jhansi and Tikamgarh, in Madhya Pradesh.
Gadkari has inaugurated 18 National Highway (NH) projects with a total length of 550 km in Orchha, in Madhya Pradesh, worth Rs 6,800 crore, in presence of Chief Minister Shivraj Singh Chouhan and other dignitaries.
Speaking on the occasion, Gadkari said that the two-decade-old demand of the local people to construct a bridge in Betwa has been fulfilled. This 665-meter-long bridge has been built at a cost of Rs 25 crore, he added.
The connectivity of Orchha, Jhansi, Tikamgarh will improve with the construction of 2-lane paved shoulder bridge and footpath.
The Minister stated that the construction of Powai, Orchha, Harpalpur, Kaithi Padhariya Kala, Patna Tamauli, Jasso, Nagaud and Sagar Link Road bypasses will reduce the traffic pressure in the city.
Sagar Greenfield Link Road will reduce the distance from Bhopal to Kanpur by 21 km, from Mohari via Satai Ghat and Chowka to Madhya Pradesh or Uttar Pradesh.
He further said that the 4-lane widening till the border, will cut down the travel time drastically. Construction of flyovers in Sagar City, Chhatarpur City and Gadhakota will solve the problem of traffic jam in those areas, he added.
Gadkari also added that there will be easy connectivity to reach the tourist places of Madhya Pradesh including Orchha, Khajuraho, Panna, Chitrakoot, Tikamgarh, Sanchi.
Speaking about the construction of the Bhopal-Kanpur Economic Corridor, Gadkari said that the transportation of cement and minerals will be easier and the logistics cost will be reduced.
The Union Minister also added that with the construction of this corridor, connectivity from Bhopal to Kanpur, Lucknow, Prayagraj, and Varanasi will improve. Construction of the 2-lane road, with paved shoulders, from Tikamgarh to Orchha will make traffic safe, he said.
In this program, Gadkari also announced the construction of a 4-lane greenfield road of 105 km length, from Bamitha to Satna, at a cost of Rs 2,000 crore.
With the construction of this road, tourism of Tikamgarh, Panna, Chhatarpur, Khajuraho and Bandhavgarh National Park will get a boost.