BRTS Link On Cards To Connect Noida International Airport With NCR Cities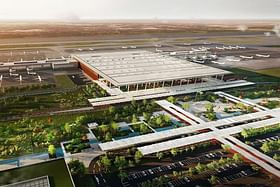 https://gumlet.assettype.com/swarajya/2022-11/9d1265fb-dbd1-46d5-b790-9f812da2655f/noida.jpg
The sprawl of the National Capital Region (NCR) may have high-speed road connectivity with the upcoming Noida International Airport (NIA) at Jewar in Uttar Pradesh, as reported in TOI.
The Noida international Airport Ltd (NIAL) has started working on a project to connect the upcoming airport with the national capital and NCR cities of Noida, Faridabad, Ghaziabad and Gurgaon through a bus rapid transit system (BRTS).
The plan involves hiring a consultant to identify the routes and prepare a feasibility plan after studying such systems functional in national and international cities.
"As a part of the detailed project report, the consultant's job would be to plan BRTS corridors and allied infrastructure, fleet size and bus technology. They will also give reports on the costing and economic viability of the project, besides the source of funding, business model and financial viability," said an NIAL official.
The DPR is most likely to be ready by September this year. A request for proposal has been floated to hire the consultant. The last date to file applications is 17 April.
Bus Rapid Transit (BRT) is a high-quality bus-based transit system that delivers fast, comfortable, and cost-effective services at metro-level capacities.
It does this through the provision of dedicated lanes, with busways and iconic stations typically aligned to the center of the road, off-board fare collection, and fast and frequent operations.
Multiple Options
The government is exploring a number of transportation systems like metro, rapid rail and pod taxis to provide smooth connectivity with nearby cities and IGI airport.
As part of the state government's plan to provide last-mile metro connectivity till the NIA, a Metro Rail will connect Noida International Airport and Delhi's IGI Airport Via New Delhi Station. Currently, the Airport Express Line or the "Orange" Line, connects New Delhi Railway Station to the IGI Airport.
In November last year, the Delhi Metro Rail Corporation (DMRC) signed an agreement with the Yamuna Expressway Industrial Development Authority (YEOIDA) for preparing the detailed project report (DPR) for construction of the said metro rail link.
Along with metro connectivity, NIA will also have connectivity to the Delhi-Mumbai Expressway with a spur route. The National Highways Authority of India (NHAI) is developing a 30 km Airport link to connect the airport with the 1350 km Delhi-Mumbai Expressway.
Also, a ground transportation centre (GTC) which combines all modes of transport under one roof has been proposed near the Jewar airport. Modelled on the lines of Zurich airport, it will house public transport facilities like metro, taxis and bus services, besides private parking.
NIA To Be Ready By 2024
NIA is the upcoming greenfield airport at Jewar in Gautam Buddha Nagar district in Uttar Pradesh. It will enhance domestic as well as international connectivity to and from Delhi-NCR, Noida and Western Uttar Pradesh.
The airport, billed to be India's largest upon completion, will be developed in four phases, with two interconnected terminals and an annual passenger capacity of 70 million.
The first phase spread over 1,334 hectare will have one runway, cargo hub along with a terminal that will cater to domestic and international passengers. As per the concession agreement, the first phase for 12 million passengers per annum is to be completed and made operational by September 2024.