Chennai Corporation Begins Kovalam Basin Storm Water Drain Project With Funding Collaboration From German Bank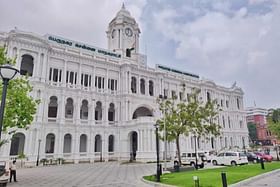 https://gumlet.assettype.com/swarajya/2023-03/a9e8da0c-172e-4acc-bcd9-a6ff1f92ba95/GCC_Chennai_Korah_scaled.jpg
The Greater Chennai Corporation has commenced work on the storm water drain project in Kovalam Basin, with a budget of Rs 508 crore.
The Municipal Administration Minister of Tamil Nadu, K N Nehru, recently inspected work being carried out in the areas of Perungudi and Sholinganallur.
Following the inspection, work orders required for the completion were issued and the work is expected to be completed within a period of 24 months, according to the Minister.
The work is being carried out in collaboration with German bank, KfW, which is funding the project.
The project aims to mitigate the problem of flooding in the Kovalam basin.
The construction of drains with an estimated cost of Rs 280.5 crore, is currently underway in Perungudi.
In Sholinganallur, construction work for drains valued at Rs 126 crore has already begun. Additionally, road work in 28 different locations has also commenced.
The Minister added, "Officials are determined to complete the work ahead of the deadline. We will start the work from the disposal points. In Perungudi zone, work will be implemented in Ward Numbers-181, 185, 186, 187, 188 and 190. These wards will get new storm water drains shortly," reports The Hindu.
Further, a significant amount of drain work — a total of Rs 1,288 crore — has been completed in various areas spanning a length of 588 km, within the city.
Additionally, efforts are currently directed towards completing an additional 441 km of drain network, which is estimated to cost around Rs 2,389 crore.