Delhi-Mumbai Expressway: Prime Minister Narendra Modi To Inaugurate Sohna-Dausa Stretch On 12 February, Madhya Pradesh Portion Likely To Open Next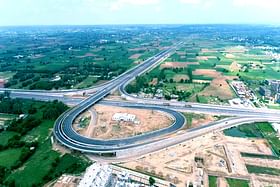 https://gumlet.assettype.com/swarajya/2023-01/4c1ba306-b609-493c-9956-c3e96baea24f/dme.jpg
Snapshot
At nearly 1,450 km, it will be India's longest expressway and will reduce travel time between Delhi and Mumbai from 24 hours to 13 hours. 
Prime Minister Narendra Modi will officially open the Sohna-Dausa section of the Delhi-Mumbai Expressway on 12 February, according to Nitin Gadkari, Union Minister for Road Transport and Highways.
The launch was originally scheduled for 4 February.
With the completion of all the nine packages totalling 293 kms between Sohna (Haryana) to Dausa (Rajasthan), the stretch is ready to open officially for commuters.
The inauguration of Sohna-Dausa stretch is set to reduce travel time from Delhi to Jaipur by couple of hours as the access-controlled highway. is designed to support a maximum vehicular speed of 120 kmph.
A 67 km spur between Bandikui (near Dausa) is being constructed. In March 2022, Bandikui-Jaipur spur's contract was awarded to GR Infraprojects Ltd.
Delhi-Mumbai Expressway (DME)
The 1,450 km Delhi-Mumbai Expressway is being built at an estimated cost of Rs 103,000 crore.
The highway will originate near Gurugram at Sohna and terminate at Mumbai. The expressway will cut the distance between the national and financial capital of India by 280 kms.
The new alignment for the Delhi to Mumbai road was planned mainly to provide seamless connectivity between the two cities and facilitate movement of freight.
The hinterland route was finalised due to its cost effectiveness, as the expense on land acquisition for the new alignment is significantly lower than what the government would have incurred if it had expanded the existing Delhi-Mumbai corridor.
At nearly 1,450 kms, it will be India's longest expressway and will reduce travel time between Delhi and Mumbai from 24 hours to 13 hours.
The expressway traverses through five states: Haryana, Rajasthan , Madhya Pradesh, Gujarat and Maharashtra.
The National Highways Authority of India (NHAI), the nodal agency for the expressway project, is executing it through 52 different packages for the main carriage way (all packages except one have been awarded).
The preparatory work on the eight-lane greenfield highway between Delhi and Mumbai began construction in 2018, with the foundation stone laid on 9 March 2019.
DME would improve access to economic hubs such as Jaipur, Kishangarh, Ajmer, Kota, Chittorgarh, Udaipur, Bhopal, Ujjain, Indore, Ahmedabad, Vadodara and Surat.
Madhya Pradesh Stretch
With 214 kms already completed and another 30 kms in the advanced stage of completion, Madhya Pradesh is likely to be the first state to finish all of the packages within its borders and will probably be launched next.
A comprehensive status tracker of all the 54 packages across five states is below. An analysis of 30-odd under construction packages suggests that the project is likely to reach completion stage by the first quarter of 2024.