Feasibility Study To Be Taken Up For 21 Ropeway Projects Under Parvatmala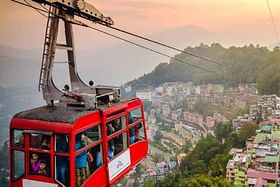 https://gumlet.assettype.com/swarajya/2022-05/72b49c08-3ed4-46cb-8060-29e5c8127205/ropeway.jpg
The National Highway Logistics Management Limited (NHLML) has invited proposals for carrying out feasibility study for development of 21 ropeway projects across the country.
The 21 projects are part of 256 ropeway projects proposed by various state governments for consideration under Parvatmala Yojana.
The consultant shall carry out detailed feasibility study report for developing ropeway system at each of the locations.
Union Finance Minister Nirmala Sitharaman, while presenting Union Budget for 2022-23, had announced the National Ropeways Development Programme "Parvatmala".
The NHLML which is 100 per cent owned Special Purpose Vehicle (SPV) of the National Highway Authority of India (NHAI) has been entrusted with the assignment of undertaking development of ropeways projects under Parvatmala Pariyojana in the entire country.
The list of 21 ropeway projects is as:
1. Tirupati (Andhra Pradesh)
2. Light House (Marine Beach) to Besant Nagar (Elliot's Beach), Tamil Nadu
3. Shankar Viman Mandapam – Triveni Pushp – Ulta Quila, Prayagraj, Uttar Pradesh
4. Parking to Banke Bihari Temple, Vrindavan, Uttar Pradesh
5. Dugdh dhara Falls to Kapil Dhara Falls, Amarkantak (Mandla), Madhya Pradesh
6. Omkareshwar Jyotirling, Madhya Pradesh
7. Statue of Unity (SOU), Kevadia, Gujarat
8. Sabarmati River Front, Ahmedabad, Gujarat
9. Raigad Fort, Mahad, Raigad, Maharashtra
10. Matheran, Maharashtra
11. Baltal – Amarnath Cave, Jammu and Kashmir
12. Nasri Tunnel to Sanasar Ropeway, Jammu and Kashmir
13. Bhaderwah to Seojhdar, Jammu and Kashmir
14. Golden Temple, Amritsar, Punjab
15. Rishikesh (Barrage) to Neelkanth, Rishikesh, Uttarakhand
16. Raithal/Barsu to Barnala, Uttarkashi, Uttarakhand
17. Kuteti devi temple-Vishwanath temple, Varunavat Top, Uttarkashi, Uttarakhand
18. Kankachori to Kartik Swami Dharmshala, Rudraprayag, Uttarakhand
19. Ranibagh to Hanuman temple, Nainital, Uttarakhand
20. Joshimath Auli Garson, Uttarakhand
21. Shirgul Mahadev Temple, Himachal Pradesh
The above list is tentative. The location, origin and destination points and stretch length of the projects are tentative and subject to change during feasibility studies and stakeholder consultations, the tender document said.
The NHAI has already invited bids for the following routes:
Sonprayag-Gaurikund-Kedarnath, Uttarakhand
Govind Ghat-Ghangaria-Hemkund Sahib, Uttarakhand
Varanasi Cantonment Railway Station to Godowlia Chowk, Uttar Pradesh
Ujjain Jn Railway Station to Mahakaleshwar Temple, Madhya Pradesh
Nature Park (Mohal) to Bijli Mahadev Temple, Kullu, Himachal Pradesh
Phool Bagh Square to Gwalior Fort, Madhya Pradesh
Ransoo Bus Stand to Shiv Khori Temple, Jammu Kashmir
All these ropeway projects are being executed on Hybrid Annuity Mode (HAM) wherein 60 per cent of the project cost will be paid as a construction support during the construction period and the remaining 40 per cent will be paid as annuity during the operation and maintenance period.
The NHLML has recently awarded the Varanasi ropeway project to an Indian firm, Vishwa Samudra Engineering and its technology partner Bartholet Maschinenbau AG of Switzerland.
Varanasi's ropeway project is the country's first "urban ropeway" project which will reduce the travel time between the Cantonment railway station and Godowlia Chowk, one of the most congested stretches, to barely 17 minutes.
Recently, Prime Minister Narendra Modi laid the foundation for two ropeways in Uttarakhand – Gaurikund to Kedarnath and Govind Ghat to Hemkund – and these will also be awarded soon.