In A First For Bihar, Three Vande Bharat Trains Likely From April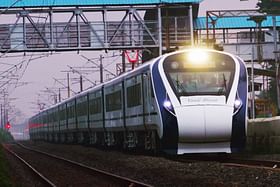 https://gumlet.assettype.com/swarajya/2022-11/d552b208-68ec-4d3f-b4ee-f40ad27cf71f/Fg7mQDjakAAjnn7.jpg
Indian Railways is gearing up to run three Vande Bharat (VB) trains in Bihar from April this year.
Two Vande Bharat trains will run from Bihar capital Patna, going to Jharkhand capital Ranchi and Howrah in West Bengal. Apart from Patna-Ranchi and Patna-Howrah, the railways also plans to start a Vande Bharat Express train on Varanasi-Howrah route. The Varanasi-Howrah train will travel via Gaya-Dhanbad.
Currently, eight Vande Bharat Express trains are running across the country.
These include Varanasi-New Delhi, Katra-New Delhi, Mumbai Central-Gandhinagar, New Delhi-Amb Andaura, Chennai-Mysuru, Bilaspur-Nagpur and Howrah-New Jalpaiguri Vande Bharat trains.
The Howrah-New Jalpaiguri Vande Bharat which was flagged off on 30 December 2022 is the only VB train currently passing through Bihar. It has a stoppage at Barsoi station in Katihar district in the state.
The launch of the flagship train on three intra-state routes will improve the speed of commute for people across the states of Uttar Pradesh, Bihar, West Bengal and Jharkhand.
The new lot of VB trains will help rail passengers from the state quickly reach the cultural landmarks of Gaya and Varanasi as well as Kolkata in West Bengal.
The semi-high speed train will run at a speed of 160 km per hour in those sections where the work of KAVACH and automatic block signal system has been completed, and in other sections the speed will be restricted to 130 kmph.
The VB train between the state capital of two neighbouring states will be completed in four hours. Indian Railways has planned to run the train through the newly commissioned line to Ranchi via Patna-Islampur. The new line will reduce the distance from Patna to Ranchi by about 50 km.
Bihar has got a record allocation of Rs 8,505 crore in the railway budget for the fiscal 2023-24, an East Central Railway official said, citing a statement by Railway Minister Ashwini Vaishnaw.
The new budget allocation is nearly seven times the amount allocated in the past for the state — Bihar received an average amount of Rs 1,132 crore between 2009 and 2014.