India To Invite EoI For $5 Billion International Transhipment Port Project In Great Nicobar Island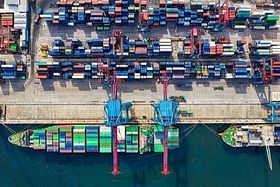 https://gumlet.assettype.com/swarajya/2022-07/5147fcee-2741-4fe3-97d9-9f83e3cce5e2/Krishnapatnam_port__AP_.jpg
The Ministry of Ports, Shipping and Waterways will invite expressions of interest (EOI) from interested players for a Rs 41,000 crore international transhipment port project at Great Nicobar Island in the Bay of Bengal.
The ministry in a release on Friday said that the project is expected to be complete with an investment of Rs 41,000 crore (USD 5 billion), including investment from both government and PPP concessionaire.
The proposed port in the Andaman and Nicobar Islands will have ultimate capacity to handle 16 million containers per year and in the first phase will handle above 4 million containers.
Other projects planned around the transhipment port include airport, township and power plant, it added.
The project is located on the international trade route, with existing transhipment terminals like Singapore, Klang and Colombo in proximity.
According to the statement, the project focuses on three key drivers which can result in making it a leading container transhipment port, i.e. strategic location in terms of proximity (40 nautical miles) with the international shipping trade route, availability of natural water depth of over 20m and carrying capacity of transhipment cargo from all the Ports in the proximity including Indian ports.
Holistic development of Islands aims to bridge the gaps in infrastructure and improve economic opportunity for rapid increase in size for all types of vessels, from feeders to the large inter-continental carriers.
Further, the proposed infrastructures facilities shall be such that the service levels and facilities match with that of the global top container transhipment terminals and neighbouring ports.
As per the statement, experts have long maintained that a strong economic case exists for enabling a transhipment hub in India that can attract Indian and regional transhipment traffic from the current hubs, save significant revenue loss, reduce logistics inefficiencies for Indian trade, reduce risks to the country's export competitiveness and create an opportunity for India to become a large hub for Asia-Africa, Asia-US/Europe container traffic trade.
Currently, nearly 75 per cent of India's transhipped cargo is handled at ports outside India. Colombo, Singapore and Klang handle more than 85% of this cargo with 45 per cent of this cargo handled at Colombo Port. Indian ports can save $200-220 Million each year on transhipment cargo, the statement said.