Indian Railways: Bharat Forge, SAIL Among Three Major Players In Race To Manufacture Wheels For Vande Bharat And High-Speed Trains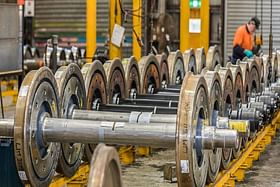 https://gumlet.assettype.com/swarajya/2023-01/9685f963-a9f0-4b86-9d83-6080e81f02bd/maxresdefault.jpg
SAIL, Bharat Forge and Ramakrishna Forgings in partnership with Titagarh, are in the race to manufacture forged wheels for Vande Bharat trains, LHB coaches and locomotives in the country, to reduce dependence on import of wheels.
In September last year, Railways Minister Ashwini Vaishnaw had announced the floating of a tender inviting the industry to set up a facility to produce these wheels, which will primarily be used for semi-high speed trains (Vande Bharat) and high-speed trains.
The bid was opened by the competent authorities and three bids are being examined currently. After the technical evaluation, a financial bid would be opened, the Railways maintained.
The selected bidder is required to set up a production unit for forged wheels, at an estimated cost of Rs 1,000 crore, and the tender was only open to Indian companies. The Railways Ministry earlier relied on imports from Europe for these specialised wheels.
Vaishnaw had also said that the country requires around 2 lakh forged wheels annually and that bidders who participate in the tender will be given an off-take assurance.
The bid was opened this week, which envisages procurement of nearly 80,000 forged train wheels at a cost of Rs 600 crore per year, under Atma Nirbhar initiative, to greatly reduce the dependence on import of wheels.
The wheel crisis came to the fore during the Ukraine war and the issue got further aggravated after the national transporter placed an order for 39,000 semi-forged wheels with a Chinese company, citing disrupted European supply chains on account of the Russia-Ukraine war.
The tender also allows the bidder to export these wheels after catering the Railways demand.
Forged wheels are specially-designed wheels, built at high-pressure, for trains running at higher speeds than regular Indian Railways trains.
According to the e-bid, a total of 15.4 lakh wheels would be manufactured and supplied.
About 50 per cent of the requirement for different types of wheels would be for Linke Hofmann Busch (LHB) coaches, 40 per cent for locomotives, 7 per cent for electric multiple unit (EMU) and MEMU trains, and 3 per cent for Vande Bharat trains.
The supplier would be expected to provide 40,000 wheels during the first year of supply, 60,000 wheels during the second year of supply, and 80,000 wheels per year, during each of the subsequent years.
Railways would have the right to increase the total supply period by up to five years, on the same terms and conditions.