Indore Metro: Construction Work In Progress, Trial Run On Super Priority Corridor To Begin By September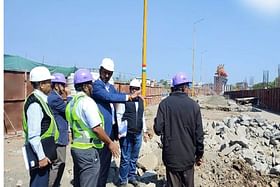 https://gumlet.assettype.com/swarajya/2023-02/a39040cf-02cb-41b1-b112-efc7a6721e4e/FoH38s0aUAMyolK.jpg
Indore metro trial run is set to begin by the first week of September 2023. This trial run will be conducted on the 5.9 km long 'super priority corridor' between Gandhi Nagar and Super Corridor.
Madhya Pradesh Metro Rail Corporation Limited (MPMRCL) has increased its personnel by 2.5 times and begun night shifts in an attempt to meet the September deadline.
On Saturday (4 February), MP Shankar Lalwani and MPMRCL officials, including managing director Manish Singh, evaluated the Indore Metro train project's progress.
Singh carefully monitored the development of various construction projects, including the Gandhinagar Metro Depot's stabling line, auxiliary sub-station, reception sub-station, operation control centre, exit ramp, and other projects.
"Trial run on around six km stretch on Super Corridor is set to begin by the first week of September and therefore, all the issues including that approval of drawings and designs have been resolved with coordination of the agencies concerned" said Singh, reports Economic Times.
The commercial run of the Metro train would take some time, as MPMRCL aims to launch Metro service in both Indore and Bhopal simultaneously.
The main depot of the Indore Metro train has been planned for a 26.25-hectare location in Gandhi Nagar.
On 14 September 2019, the first phase of the metro rail project's foundation was officially laid. The metro rail project's 31.55 km-long track will cost a total of Rs 7,500.84 crore to build.
Also, Indore Metro is expected to receive Rs 7,200 crore in funding from the Asian Development Bank and the National Development Bank.
The Indore Metro Phase 1 project's Detailed Project Report (DPR) with 33.53 km of lines was approved by the state government in December 2016 and by the central government's cabinet in October 2018.
Indore, the commercial capital of the state of Madhya Pradesh, faces connectivity challenges arising from rapid urbanisation and inadequate public transport infrastructure.
Besides being a significant industrial hub and tourist destination, Indore is the state's education and medical services centre.
Indore's current bus system cannot address the rising demand for public transportation from increasing traffic volume. Because of limited land space, the city cannot expand road corridors to add bus lines.