Karnataka: Prime Minister Modi Lays Foundation Stone For South India's First Industrial Corridor Project At Tumakuru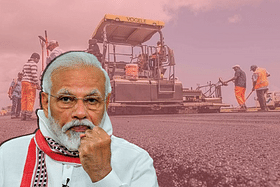 https://gumlet.assettype.com/swarajya/2021-11/337c37f7-9af6-434d-8be4-cd2569e834c5/Modi_Image.png
Chennai Bengaluru Industrial Corridor will see accelerated development and regional industry agglomeration in Tamil Nadu, Karnataka and Andhra Pradesh.
On 6 February, Prime Minister Narendra Modi laid the groundwork for the first industrial corridor project in south India, which would be built near Tumakuru.
It spans around 8,500 acres of land and is being built part of the Chennai Bengaluru Industrial Corridor (CBIC).
The CBIC project includes the construction of industrial townships in three locations: Krishnapatnam (Andhra Pradesh), Tumakuru (Karnataka), and Ponneri (Tamil Nadu).
The project for Tumakuru node was approved by government of India on 30 December 2020.  The node has been targeted for development, with a 1,736.20-acre priority development area defined.
The Centre along with the National Industrial Corridor Construction and Implementation Trust (NICDIT), and the government of Karnataka along with the Karnataka Industrial Area Development Board (KIADB), have initiated development of the Tumakuru Industrial Township in three phases.
The Prime Minister said that taking forward the vision of Atmanirbhar Bharat, Tumakuru Industrial Township has been planned with holistic and integrated approach in line with the principles of PM-GatiShakti to address the issue of last mile multi-modal connectivity to the economic zone, noted an official document.
The Tumakuru Industrial Township project and the Industrial Corridor Programme at large will contribute to futuristic and inclusive growth of the country with the vision of the government for 'Make in India, Make for the World', according to Modi.
Chennai Bengaluru Industrial Corridor (CBIC)
It is being planned to achieve accelerated development and regional industry agglomeration in the states of Tamil Nadu, Karnataka and Andhra Pradesh.
CBIC proposes to address the infrastructure bottlenecks through a holistic approach while benefiting from the inherent strengths and competitiveness of each state. Accordingly, high impact/market driven nodes are proposed to be developed at strategic locations within the corridor, to provide transparent and investment friendly facility.
The following nodes are being developed under CBIC project:
Krishnapatnam Industrial Area, Andhra Pradesh (2,500 acres)
Tumakuru Industrial Area, Karnataka (1,736 acres)
Ponneri Industrial Area, Tamil Nadu (4,000 acres)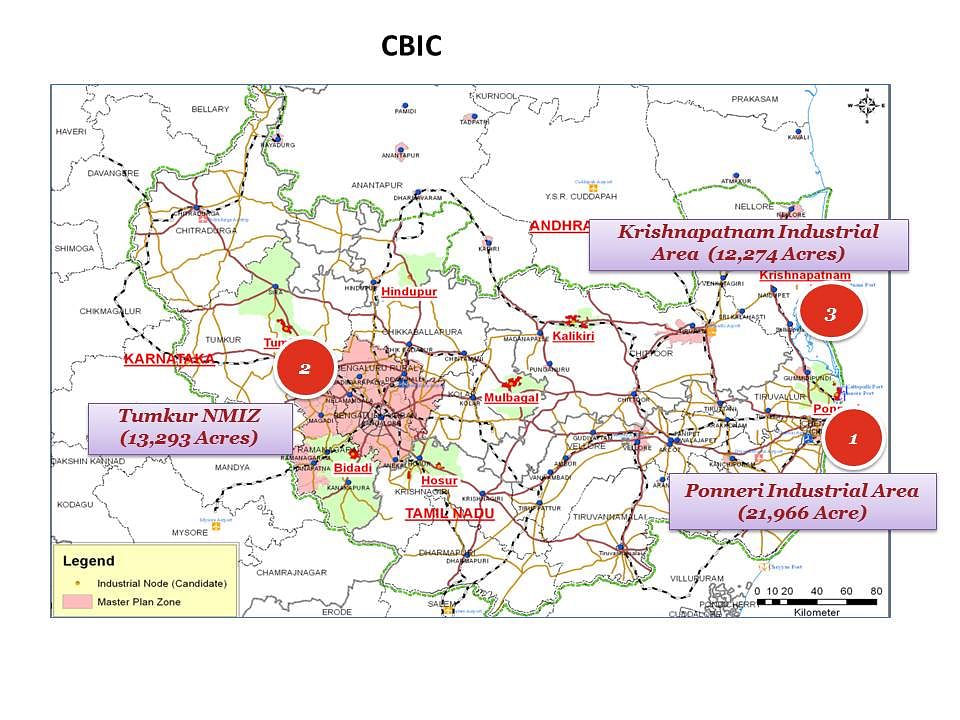 These regions are proposed to be self-sustained nodes with world-class infrastructure, road and rail connectivity for freight movement to and from ports and logistics hubs, served by reliable power, quality social infrastructure and provide a globally competitive environment conducive for setting up businesses.