Kota : India's Coaching Hub To Soar With Construction Of New Greenfield Airport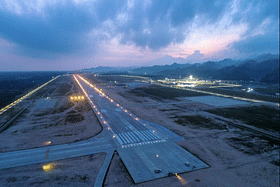 https://gumlet.assettype.com/swarajya/2023-01/10bfe5b7-ff43-499f-a4d5-eb499a6308bc/GFA.png
Commercial flights to Kota, which is home to the coaching industry worth Rs 6000 crore, will soon be a reality.
The Central Government has accorded its approval for diversion of 466.59 hectares of forest land thereby clearing the decks for construction of new greenfield airport at Kota.
Forest Advisory Committee (FAC), a statutory body of the Ministry of Environment Forests and Climate Change (MoEFCC), which is tasked with granting approval for diverting forest land beyond five hectares granted its approval to the proposal on 28 December 2022.
Existing airport
Kota already has an existing airport suitable for smaller aircrafts (Code-B). Commercial flights from Kota Airport were discontinued in 1995 after the passenger flow dried up following the industrial recession there.
However, with the advent of coaching industry, there has been fairly consistent demand for air travel to and from Kota.
In a failed attempt, recommencement of domestic air flight from Kota to Jaipur was kicked off by the then CM Vasundhara Raje in 2017. However, the continuity could not be sustained for more than seven months.
Due to landlocked nature of the current airport and its unsuitability for operation of A-320 type aircraft, the State Government in 2021 requested the Airports Authority of India (AAI) to develop a greenfield airport at Kota.
The State Government has provided 1250 acres of land free of cost for the development of greenfield airport. Also, as per the master plan, it has been asked to reserves 360 hectares of land for future expansion. With forest clearance in place, the work on the new airport will start soon.
Phased Plan
The greenfield airport located in Bundi district in Rajasthan is being planned phase-wise.
In Phase- I, the airport will be developed for a peak hour capacity of 800 passengers which is expected to serve smoothly till 2034-35. In Phase- II, the airport will be expanded to include cargo facilities, MRO operations and support for CAT landing.
The new airport will serve 1.5 lakh students studying across various coaching centers in the city as well as tourists visiting Ranthambore Tiger reserve.