Mumbai Metro Line 3 : 55 Per Cent Work Completed On Aarey Car Shed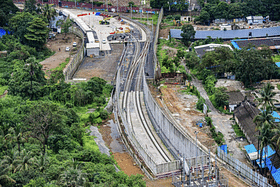 https://gumlet.assettype.com/swarajya/2023-01/731d4df3-361a-4be3-ae4c-17808cebc69d/Screenshot_2023_01_27_142455__1_.png
Work on the 33-acre car Shed at Aarey that would serve as the base for maintaining Metro coaches for Mumbai Metro Line 3 project is on the fast lane with 55 per cent of the work having been completed.
There has been a long legal battle over Mumbai's Metro-3 car shed at Aarey before it was finally allowed to resume.
The Aarey car depot will have an administrative building, operation control, inspection and maintenance workshops and stabling lines for parking of trains.
Mumbai Metro Line 3: City's first underground public transport system
The Colaba-Bandra-SEEPZ Metro-3 Corridor, also known as Aqua Line will be Mumbai's first underground Metro once ready.
The alignment of Mumbai Metro Line 3 spans approximately 33.5 kilometres from Colaba (Cuffe Parade) in the south through Bandra, ending within the Special Electronics Export Processing Zone (SEEPZ) in the north, and consists of 27 stations.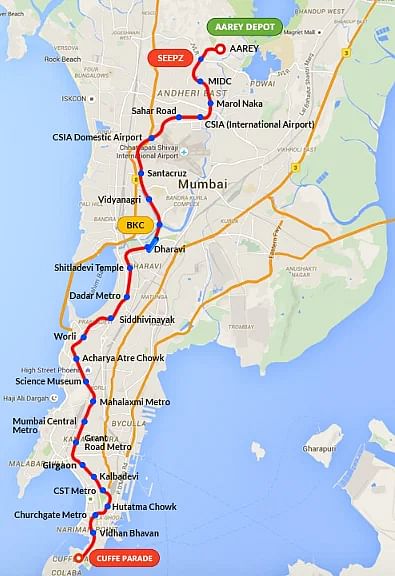 The Car Depot will be at-grade and is located at Aarey Colony north of Jogeshwari Vikhroli Link Road.
The project is being executed by the Mumbai Metro Rail Corporation Limited (MMRCL) – a joint venture of the Government of India and the Maharashtra government.
Metro Line 3 would connect Mumbai's key financial hubs, such as Nariman Point, Bandra-Kurla-Complex (BKC), Fort, Worli, Lower Parel, Goregaon and also connect to two crucial heritage stations of Mumbai, i.e., CSTM and Churchgate.
The MMRCL plans to commission Metro-3 in 2 phases. The first phase between Aarey Colony Station and BKC will be operational in December 2023. Phase- II between BKC and Cuffe parade will be commissioned next year.
The Delay
The first section (Aarey-BKC) was initially targeted to be opened in June 2021 which got delayed due to protest against Aarey car shed.
Stretched over 1800 acres of forest land in the northern suburb of Goregaon, Aarey is located near the Sanjay Gandhi National Park (SGNP) and hosts a rich biodiversity.
Work on the contested depot in Aarey began in 2015 but was halted in October 2019 by the Supreme Court. This came on a petition which challenged the the decision of the BMC Tree Authority to allow the cutting of trees in Aarey for the project.
At that time approximately 30 per cent work had been completed on the project.
Around a month later, the new government in the State headed by Shiv Sena's Uddhav Thackeray announced the scrapping of the construction of the Metro car shed at Aarey and moved it to the 102-acre Kanjurmarg plot.
The situation, however, changed with the change in guard at the top in June 2022. The project was moved back to Aarey from Kanjurmarg, which was later cleared by the Supreme Court.
The Supreme Court on 29 November 2022 modified its status quo order on felling trees in the Aarey Colony, allowing the MMRCL to approach the authorities to cut 84 trees for the project.