National Highway Network To Expand With Record Allocation Of Rs 2.7 lakh Crore, Pace Of Construction To Be Expedited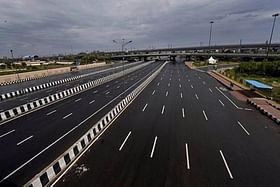 https://gumlet.assettype.com/swarajya/2023-01/ec78a72a-1887-4bd7-9652-4f63e979f828/swarajya_2021_12_923cde37_fb2f_4282_bef1_45bb8fe864f3_Mega_National_Highways_Project_1200x800.jpg
In a major push to the National Highway (NH) network, the Budget has proposed the highest ever allocation of Rs 2.7 lakh crore for the road, transport and highways sector in 2023-24, which is 25 per cent more than the current financial year and nearly 36 per cent more than the budget estimate of 2021-22.
Ahead of the Lok Sabha elections 2024, the government has earmarked higher allocation for highways with the pace of construction to be expedited.
Since the road network plays a crucial role in the government's push for capital expenditure, nearly 26 per cent of the capex has been earmarked only for this sector. The record allocation is expected to cater to the higher appetite of the sector, to utilise funds at a faster pace.
According to the data, the fund allocation for the sector has increased over five folds since 2014, when the total allocation was around Rs 51,500 crore.
The Road Transport and Highway Ministry officials maintained that the focus will now be on completion of more NH stretches and the ministry may set a higher target of construction than that of the current financial year (12,000 km).
The expenditure usually increases during the last leg of construction and the Ministry is hopeful of meeting the target.
In a video message, Union Road Transport and Highways Minister Nitin Gadkari said his ministry will fulfil the aim of completing highway projects for the benefit of commuters and to reduce logistics cost.
Continuing its policy to not increase the debt burden on the National Highways Authority of India (NHAI), the Budget proposal rules out the authority to borrow money from the market, for construction of highways.
The increased allocation of Rs 1.62 lakh crore, which is also the highest ever in NHAI history, will come from budgetary support, plough back of toll revenue and monetisation of its assets.
The Budget 2023-24 has estimated the NHAI to get Rs 10,000 crore from monetisation of some completed highway stretches.
NHAI is primarily involved in construction and widening of NH stretches to four lanes or more, and for building greenfield corridors, including expressways.