Spike In Power Demand: Railways Deploy 1.25 Lakh Wagons For Coal Transportation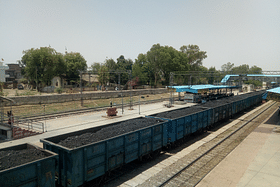 https://gumlet.assettype.com/swarajya/2022-04/82fea9cf-93da-4285-b4e9-c762e9008336/Indian_railways_coal_transportation.png
With the onset of early summer and the power demand slated to rise, Indian Railways has geared up to ensure adequate wagon supply to facilitate smooth transportation of coal for the power sector.
India's peak power demand is expected to touch 230 GW in 2023, having already touched 211 GW in January, which was close to an all time high at 216 GW in April 2022.
The Railways has ramped up production of wagons and is adding nearly 1,500 wagons or 30 freight trains every month, only for transportation of coal to meet the summer requirement.
Amid strong indications of early onset of summer and spike in demand for electricity, the Railway Ministry officials said efforts are being made to ensure adequate and enough supply of coal to power plants and to avoid situations like last summer — when they had to cancel a large number of passenger trains for coal movement.
According to the Railways, till now 1.25 lakh wagons are being pressed into service for coal transportation.
The production of wagons has more than doubled — till January of the 2022-23 financial year with production of over 17,000 wagons — and nearly 50 per cent of these are meant for carrying coal.
This is a priority area for the Railways. Besides accelerating the addition of more wagons in the system, there is a greater focus on giving approvals to all important projects related to coal movement expeditiously.
"Railways have adopted a corridor-based approach and 'coal corridor' is the most important one," said a senior Railways Ministry official.
It was during this period last year that the Railways took the drastic measure to cancel nearly 700 passenger train services, to rush coal to the thermal power plants across the country.
A total of 1,900 such services were cancelled. It was seen as an exception on the Railways' part considering its past record of giving priority to passenger trains over freight trains.
Officials said there have been regular meetings of all the stakeholders to be ready to meet the demand of coal during summer.
Last week, the Power Ministry directed all imported coal-based thermal plants to function at full capacity between 16 March and 15 June, so that the anticipated spike in electricity demand is met.