Telangana: Olectra Bags State Road Transport Corp Order For 550 Electric Buses To Be Operated Within Hyderabad And Hyderbad-Vijaywada Routes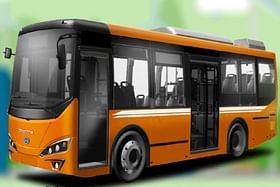 https://gumlet.assettype.com/swarajya/2023-03/8883a5f2-eeb1-4e38-bc65-5b9b54667c39/OLECTRA_GREENTECH_1.jpg
In a significant boost to the state's ambition to shift towards large-scale clean, green public transportation, the Telangana State Road Transport Corporation (TSRTC) has placed an order of 550 electric buses from Hyderabad-based Olectra Greentech Limited (OGL), India's largest electric bus manufacturer.
"We won the order to supply 50 standard floor 12-metre intercity coach e-buses and 500 low floor 12-metre intracity e-buses from TSRTC". He said that the e-buses would be delivered in phases." said KV Pradeep, chairman and managing director of OGL.
While 50 fully air-conditioned e-buses, which can travel a distance of more than 325 km on a single charge, will operate between Hyderabad and Vijayawada in Andhra Pradesh, the remaining 500 e-buses will ply within Hyderabad, with each e-bus having the capacity to travel a distance of more than 225 km on a single charge.
TSRTC has built the requisite infrastructure for deploying and operating the e-buses by allotting five depots in the twin cities.
Olectra's association with TSRTC dates back to March 2019, with 40 e-buses. These e-buses have been plying from RGIA-Shamshabad to various destinations in Hyderabad. Exactly four years later, in March 2023, Olectra partnered with TSRTC once again for 550 e-buses.
"Electric buses have been procured to protect the environment. The TSRTC has plans to make 3,400 electric buses available across Telangana in the next two years. The e-buses will also significantly reduce the noise and emission levels", TSRTC Chairman and Nizamabad rural MLA Bajireddy Govardhan said
"We are hoping make electric buses available across Hyderabad by March 2025 and we are working on it. In the first phase we are going to deploy 550 Olectra e-buses. All these buses will come into use in stages". TSTRC Managing Director VC Sajjanar added.