With Upgraded Features, The Delhi-Varanasi Vande Bharat Train To Run With Increased Frequency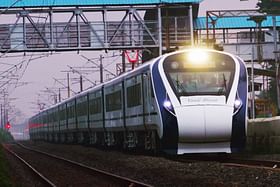 https://gumlet.assettype.com/swarajya/2022-11/d552b208-68ec-4d3f-b4ee-f40ad27cf71f/Fg7mQDjakAAjnn7.jpg
The Delhi-Varanasi Vande Bharat train will now reportedly run six days a week, up from five days previously.
According to officials, the frequency will be increased from this week, reports ET.
The railways have upgraded the indigenously designed and built semi-highspeed train after producing the first two such trainsets. This upgradation of the train includes several added features.
This norm has been set since the upgraded version of the train has several new features which have been developed based on the experiences gained from operating the first two trains.
The Delhi-Varanasi Vande Bharat Express is the second most popular Vande Bharat train, after the train which runs between Mumbai and Gandhinagar.
The first Vande Bharat Express train in the country ran on the New Delhi-Varanasi Vande Bharat route on 18 February 2019.
This train makes stops at Thyagraj and Kanpur and covers the distance between New Delhi and Varanasi three hours earlier than other trains on the same route.