Ayodhya Airport To Be Ready By June With Ram Mandir Consecration Planned In January 2024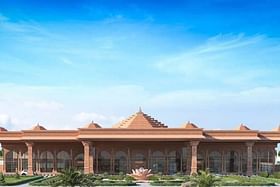 https://gumlet.assettype.com/swarajya/2023-01/96a3a871-c937-4dba-9aad-c4b83d2b3d10/Terminal_Building_of_Ayodhya_Airport.jpg
As the ground and first floors of Sri Ram temple at Ayodhya are likely to be completed by January 2024, the government is targeting to complete Ayodhya International Airport by June this year.
The Uttar Pradesh government and Airports Authority of India (AAI) are developing the existing airstrip in Faizabad near Ayodhya as an international airport.
The Maryada Purshottam Shri Ram International Airport is located 8 km from the Ram temple and is coming up along the Gorakhpur-Lucknow National Highway.
The project involves the extension of the runway, taxiway, apron, isolation Bay, RESA, domestic terminal building, and other works.
The domestic terminal Building will be centrally air-conditioned, having an area of 6,000 sq. m. capable of handling 300 peak-hour passengers with all modern facilities and amenities, including three aerobridges.
The current airstrip is located in an area of 177.62 acres of land. For the proposed development activities, an additional area of 170 acres of land free from all encumbrances has been handed over by the district administration to AAI.
The international airport will be developed in multiple phases in an overall area of 660 acres of land.
Already 52 per cent of the development work has been completed by last month.
The terminal building of the upcoming Ayodhya Airport is being envisaged as a structure that pays homage to the grand Ram Mandir.
The roof of the terminal is proposed to be adorned with Shikharas, of varying heights to convey a sense of grandeur to the structure. Along with the varying shikharas, the terminal will have decorative columns displaying important events from Ramayana pictorially.