Ten Firms Including JSW Infra,Boskalis, Concor,Adani,RVNL Submit EoI For Rs 41,000 crore Container Transhipment Port In Great Nicobar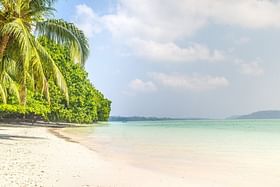 https://gumlet.assettype.com/swarajya/2023-01/ace7ad92-74cf-4fdf-8b56-b8c75bac2ff8/andaman_and_nicobar_islands.jpg
Ten firms that have filed expressions of interest (EoI) for developing and operating the international container transhipment port at Galathea Bay in the Great Nicobar Island, ET Infra reported.
Adani Ports and Special Economic Zone Ltd (APSEZ), JSW Infrastructure Ltd, Dutch dredging contractor Royal Boskalis Westminster, Rail Vikas Nigam Ltd, Container Corporation of India Ltd, Essar Ports Ltd, Megha Engineering & Infrastructures Ltd, Vishwa Samudra Holdings Pvt Ltd,
Navayuga Engineering Co Ltd, and PDP International Pvt Ltd have submitted responses to EoI, ET Infra reported quoting government sources.
On Jan 27, the Ministry of Ports, Shipping and Waterways invited EOI from interested players for a Rs 41,000 crore international transhipment port project at Great Nicobar Island in the Bay of Bengal.
The proposed port in the Andaman and Nicobar Islands will have ultimate capacity to handle 16 million containers per year and in the first phase will handle above 4 million containers.
Other projects planned around the transhipment port include airport, township and power plant, it added.
The project is located on the international trade route, with existing transhipment terminals like Singapore, Klang and Colombo in proximity.
Galathea Bay of the Great Nicobar Island, where the proposed transshipment hub may come up, has a depth of 18 to 20 m to handle large ships.
Landlord Mode
Syama Prasad Mookerjee Port, Kolkata (SMPK) is the nodal agency for undertaking development of proposed port project in landlord mode.
In this model, the publicly governed port authority acts as a regulatory body and as a landlord, while private companies carry out port operations — mainly cargo-handling activities.
Here, the port authority maintains ownership of the port, while the infrastructure is leased to private firms that provide and maintain their own superstructure and install their own equipment to handle cargo. In return, the landlord port gets a share of the revenue from the private entity.
According to the EoI, the Port Authority will provide the basic infrastructure and 125 hectares of reclaimed land for development of the container yard and other infrastructure facilities.
On the other hand, the chosen Concessionaire will design, finance, construct, operate and maintain the container handling facilities envisaged in Phase-I under a long-term concession agreement of 30-50 years.
The Concessionaire shall have the flexibility to develop storage area and handling equipment based on their market assessment subject to the minimum guaranteed traffic. It will be responsible for the provision of port services and shall have the rights to levy, collect and retain charges from port users.
Significance Of The Project
There is no large container transhipment port in India and all international container cargo has to go to Colombo, Singapore and Port Klang in Malaysia.
With 75 per cent of the country's transshipment cargo being handled at international ports, it makes Indian industries vulnerable to increase in costs, potential inefficiencies, and congestion issues and creates long-term risks for India's trade competitiveness.
Of the more than 16.1 million twenty-foot equivalent units (TEUs) handled at India's ports, nearly 75 per cent (12 million TEUs) was gateway cargo, while about 25 per cent was transshipped en-route to final destinations.
Out of the nearly 75 per cent of India's transshipped containers that are handled at ports outside India, Colombo, Singapore and Port Klang handle more than 85 per cent of it. Colombo alone handling about 2.5 million TEUs.
Experts have long maintained that a strong economic case exists for enabling a transshipment hub in Southern India that can attract Indian and regional transshipment traffic from the current hubs, save significant revenue loss, reduce logistics inefficiencies for Indian trade, reduce risks to the country's export competitiveness and create an opportunity for India to become a large hub for Asia-Africa, Asia-US/Europe container traffic trade.
Also Read: Explained: Why India Is Building A Container Transshipment Port In Andaman And Nicobar Islands
Explained: The Significance Of Rs 17,000 crore Container Transshipment Terminal India Is Set To Build At Galathea Bay In Great Nicobar