India And Japan High-Level Delegation Meet To Work Out Solutions To Make Gujarat Section Of Bullet Train Operational In 2027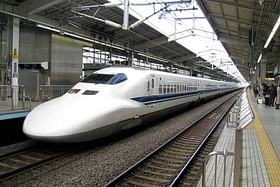 https://gumlet.assettype.com/swarajya/2022-07/8891e0f4-6ffd-4f2e-a6c7-5f184e5a5f6e/Collage_Maker_14_Jul_2022_04_57_PM.jpg
Running behind schedule amid the high cost escalation, the first bullet train project in the country, is making efforts to get the Japanese on board for completion of the Gujarat section of Mumbai-Ahmedabad high speed rail route, and render it operational in 2027.
Though in the recent high-level meeting, Indian delegations tried their best to get Japanese commitment towards the partial operation of the train service in Gujarat in 2027, there was no explicit commitment from Japan to this effect, according to the senior Railway Ministry official, who was part of the team.
There are issues of tendering of rolling stock, control system and technological integration and cost escalation among others.
However, they (Japanese) said they would try to work it out with their vendors for it, and the issues would be resolved in the next working level meeting, according to the Railways.
The Indian side was headed by Railway Minister Ashwini Vaishnaw and the Japanese delegation was headed by Masafumi Mori, Special Advisor to Japan Prime Minister.
Representatives from External Affairs Ministry, Department of Economic Affairs, Department for Promotion of Industry and Internal Trade, Chairman Railway Board and other senior officers from Indian Railways, had participated in the high-level meeting held last week at Rail Bhawan.
The Japanese delegation consisted of high-level officials from the Japanese government, Japanese embassy and JICA, the funding agency of the project.
The 508.09-km-long Mumbai-Ahmedabad high speed rail corridor, connects the two financial hubs located in Maharashtra and Gujarat, respectively.
During the journey, the train will halt at 10 cities — Thane, Virar, Boisar, Vapi, Bilimora, Surat, Bharuch, Vadodara, Anand, Ahmedabad and Sabarmati.
The Rs 1.1 lakh crore project is being executed by the National High Speed Rail Corporation through a 50-year Rs 88,087 crore loan from Japan, at an interest rate of 0.1 per cent  with repayments scheduled to start 15 years after the line becomes operational.
However, the delay has caused cost escalation and it is believed that the project would cost nearly Rs 2 lakh crore. Efforts are on to make the first section of Mumbai – Ahmedabad Bullet Train project in Gujarat operational in 2027.