Metal Fencing Work Commences On Mumbai-Ahmedabad Route To Prevent Cattle Run-Over Incidents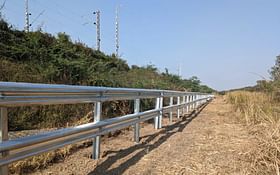 https://gumlet.assettype.com/swarajya/2023-01/30b50e8d-f42b-48fa-9e6c-497d9ebe4789/IMG_20230129_WA0024.jpg
In order to curb incidents of cattle run-over in the busy Mumbai – Ahmedabad rail route, the Railways has initiated the construction work of cattle barrier fencing in the Western zone.
It has undertaken the long awaited work of construction of metal beam fencing on Mumbai – Ahmedabad section. The metal barrier fencing will cover a length of about 622 km, between Mumbai to Ahmedabad and will be carried out at an approximate cost of Rs 245.26 crore.
According to the Western Railway, all the eight tenders have been awarded and work is progressing in full swing. The work is expected to be completed  by the end of May 2023.
The fencing will be of guard rails made of metal. The fencing is very robust as it consists of two W-beams. A W-beam type stands for wide flanges, which are thicker and aid in resisting bend stress. Such fencing is used in highways and expressways, especially at accident prone areas to provide protection to vehicles as well as pedestrians.
Western Railway appeals to cattle owners/cattle grazers to not let their cattle come near the railway land and tracks.
There are many cattle-hit incidents involving Vande Bharat Express which disrupted the train operations in the zone.
Once the fencing work is complete, Vande Bharat Express will be able to run at a maximum speed of 160 kmph on the route reducing the travel time further.
Besides, Vande Bharat Express other mail/express train service would also benefit from the fencing work as the train operation in the section will be hassle-free.