Work On First River Bridge On Bullet Train Corridor Nearing Completion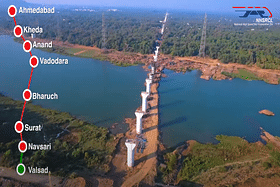 https://gumlet.assettype.com/swarajya/2023-01/d075d70a-7c2d-4bb7-b2cb-86dffdd0bd4d/Screenshot_2023_01_25_112044__1_.png
In a significant achievement, the first river bridge on the Mumbai-Ahmedabad High Speed Rail (MAHSR) corridor is getting ready and is just four pillars away from completion.
The bridge being constructed over Par River in Valsad in Gujarat is 320 metres-long and consist of 8 full-span girders, each 40 metres long. The heigh of pier on which these girders will rest ranges from 14.9 to 20.9 metres.
Among the most complex of the substructures being constructed on the high speed corridor are the bridge structures over rivers.
"Laying piers on a river is complex. It involves complex geotechnical investigation. First, the well foundation has to be laid. Then piers will be put, over which the girders will be launched. Finally, the track will come on the girder," said a senior official overseeing the construction of the bridge on the Tapi River.
A total of 20 bridges will be constructed under this project as the bullet train will cross over rivers like Narmada, Sabarmati, Mahi, Par, Kaveri, Purna Ambika, Daroatha, Daman Ganga, Tapi, Kim, Vishwamitri, Mohar, Vatrak and Meshwa.
The longest will be a 1.2-kilometre-long bridge over the Narmada river in Bharuch city of Gujarat followed by Tapi and Mahi which will be of around 720 meters.
India's First Bullet Train Project
Presently, the Mumbai-Ahmedabad High-Speed Rail is the only sanctioned high-speed rail project in the country.
The High-Speed Rail operating at 320 kmph will traverse along west India's landscape, covering 508.17 km distance between Mumbai and Ahmedabad in just about two hours. This will save time compared to current travel time between the two terminal stations by about nine hours (by bus) or six hours (by conventional railways).
It will cover 155.76 km in Maharashtra, 4.3 km in the Union Territory of Dadra & Nagar Haveli and 348.04 km in Gujarat, with 12 stations en route.
The government is yet to determine a final deadline for the entire 508-km project, but the completion time for a 50-km stretch between Surat and Bilimora in Gujarat has been set for August 2026.