Thane-Borivali Twin Tunnel: Bids Invited For Project To Connect East And West Of Mumbai Via A 6-Lane Road Beneath Sanjay Gandhi National Park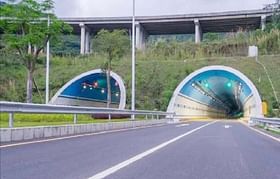 https://gumlet.assettype.com/swarajya/2023-01/6888cf61-7609-4d76-8f15-8cc41911d610/boriwali_to_thane_tunnel_1672916972658jpeg.jpg
Mumbai Metropolitan Region Development Authority (MMRDA) has invited bids for the construction of the Borivali-Thane twin tunnel, which will drastically reduce travel time between the two destinations upon completion.
The part of the proposed tunnel will pass through the Sanjay Gandhi National Park (SGNP), the only national park in the world to be located within a metropolitan area.
Currently, the time to cover the distance between the western suburb of Borivali and the eastern suburb of Thane in the Mumbai metropolitan region (MMR) is more than an hour. Once this 11.84 km-long road project is built beneath the Sanjay Gandhi National Park, the travel time will reduce to just around 15 minutes.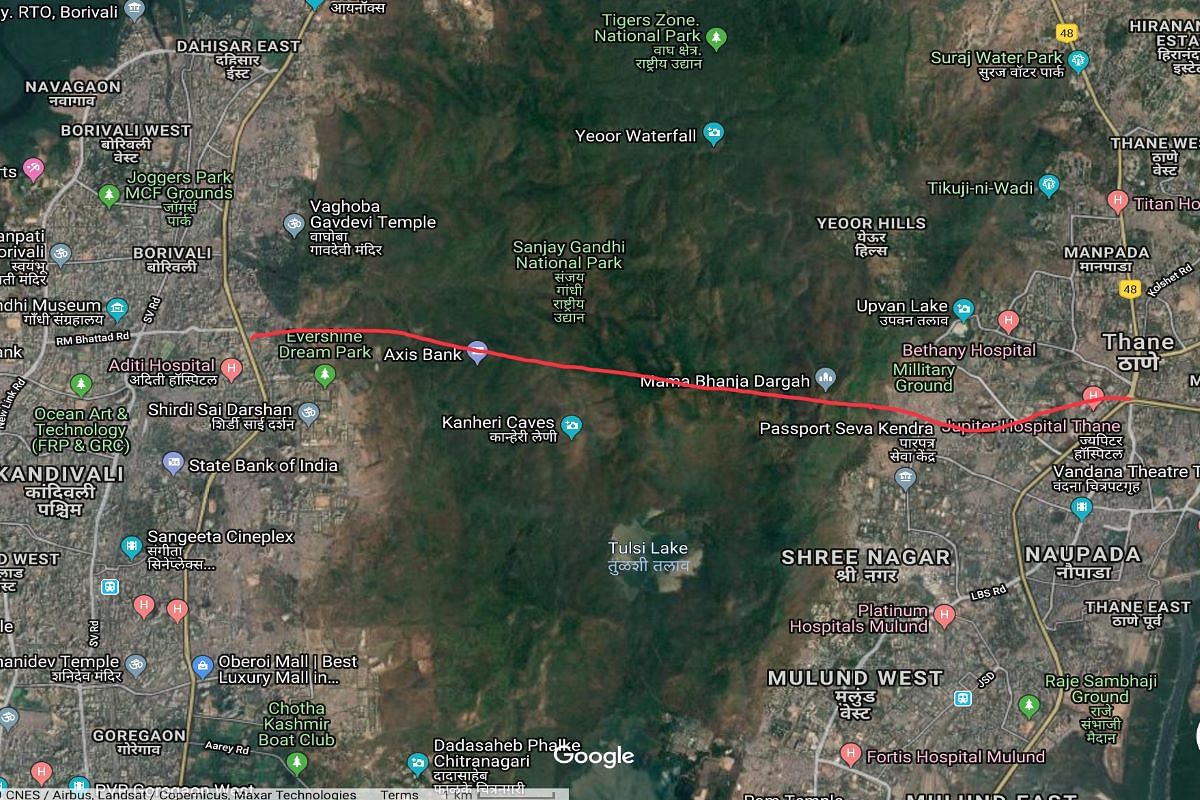 The Thane-Borivali tunnel project is part of the Goregaon Mulund Link Road (GMLR) project that envisages creating an east-west corridor for traffic movement, connecting Mulund in the eastern suburbs with Goregaon in the western suburbs. Currently, there is no direct connectivity between these areas, and commuters have to take a detour from either Ghodbunder Road in Thane or Powai. Both these roads remain gridlocked during peak hours.
The proposed project will have 10.8 km of twin tunnels and another km of approach roads on both ends (Thane and Borivali) combined. In all, a total of 23.68km of new road construction, along with a tunnel.
The project is estimated to be complete in five years and will cost Rs 13,200 crore. It will necessitate the acquisition of 16.54 hectares of private land and 40.46 hectares of land within the Sanjay Gandhi National Park.
The connectivity project will originate at Magathane's Ekta Nagar in Borivali and emerge next to Tikuji-Ni-Wadi at Manpada in Thane.
Each of the tunnels will have three lanes (six in total) and interconnecting tunnels for emergency purposes.
The tunnel will also have advanced ventilation and lighting system, along with electronic surveillance. A provision for a linear heat detection system is also part of the plan. Within 500 metres, there will be SOS boxes that commuters can use in case of an emergency. The tunnel will be excavated 23m below the surface."
The National Board for Wildlife has already granted wildlife clearance for the project.
The clearance from the Union environment ministry's Regional Empowered Committee (REC) in Nagpur is expected to come through after a sub-committee set up by them to assess the impact of the project will be submitted.
The IIT-Bombay study concluded that the project would not have any significant impact on groundwater, as the size of the tunnel compared to the rest of SGNP was 'insignificant.'
Considering that the tunnel will pass through SGNP, the MSRDC has promised to take special precautions to avoid causing harm to the park's biodiversity by using tunnel-boring machinery to prevent upsetting the lives of the park's animals and flora.