India's Regional Airlines: The Missing Connectivity Link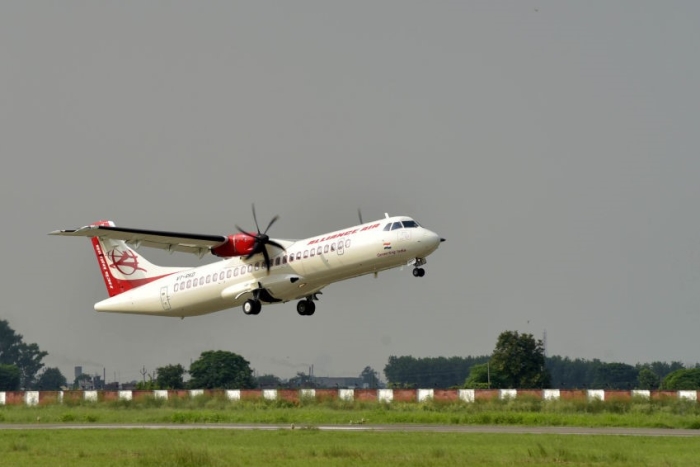 As the country continues to focus on connectivity initiatives, regional airlines are yet to see traction. The regional airline landscape is evolving and unfortunately has seen very few successes. This is due to a number factors ranging from inadequate capitalisation, inability to scale, lack of planning, operational complexities and talent requirements.
Together, they make for challenging choices, complexities and unviable economics. In looking to the past, a common thread emerges. In that, India's regional airlines are bound together by their inability to stay aloft.
Concurrently, the coronavirus pandemic has now forced to revisit business plans. The underlying structure of demand has changed and earlier ubiquitous trends of rapid urbanisation, over-tourism and day-trips stand reversed.
New health policies, contagion checks and anti-immigrant sentiment overseas are likely to further redirect traffic towards domestic skies. With work-from-home coupled with decreasing costs of data, the new reality has tier 2 and tier 3 cities emerging.
However, air-connectivity still lags. Regional connectivity is still found wanting. Can this be changed?
To get to the heart of the issue, it is critical to mention that the core of any airline's success is its network. That is, the cities it flies to and the manner in which these are integrated. Until now, this has been challenging due to a multitude of reasons. This includes a lack of infrastructure, lack of financing mechanisms, a lack of suitable aircraft and the underlying structure of demand. Yet slowly but surely all of these elements are changing.
With the government's focus to build 100 regional airports, the infrastructure challenge will gradually ease. In states such as Uttar Pradesh, plans have been put on overdrive and one will see upgradation of existing airfields in addition to construction of new airports (of 18 divisions the states plans to have at least one airport in each one). Other states are likely to follow suit.
At the Centre, the next round of airport privatisation includes coupling airports where each bidder will effectively have to include one regional airport in the mix. While the mechanics are debatable, the fact that this will lead to better regional infrastructure is a given.
Another element that has never quite aligned is the availability of aircraft. Regional aircraft are an asset class in their own right and have unique characteristics in terms of lifecycles. The financing, operational consideration and talent requirements for these aircraft are unique. This has to be planned for and failing to do so means the airline is then left with excess costs not covered by corresponding revenues.
In previous times due to the scale and size of operations, regional airlines faced dual challenges of never quite amortising their costs to a sustainable level and not getting the economics right as firms were just not keen on offering deep discounts for small scale of operations. Yet with current market dynamics locally and globally this has changed as well.
Perhaps, the most important change that is underway is the underlying demand profile. Until recently, metro cities figured disproportionately as the growth drivers. This was reflected in numbers where approximately 61 per cent of the domestic traffic and 73 per cent of international traffic originated from the six cities of Delhi, Mumbai, Bengaluru, Hyderabad, Kolkata, Chennai and Cochin.
But a gradual move away from the cities coupled with increased digital penetration, costs of data, flexible work policies and increasing behavioural changes has led to interesting migration patterns. This migration is still in its nascent stages but over time this is likely to aggregate to true regional demand.
The current snapshot of regional operations in India includes three large airlines namely IndiGo, SpiceJet and Alliance Air (Air India's regional arm) and two regional airlines namely StarAir and TruJet. There are also a handful of other firms that intend to get into this space but these are not quite seen as serious contenders. The start — suspend — fail nature of operations in the space continues.
Due to the very few success stories in the area of regional airlines, financiers are extremely reluctant to lend. This coupled with the lack of suitable aircraft types makes for an extremely challenging liquidity situation. Regional routes also are shorter where alternate means of transport are always an option. And given the price elasticity as fares rise passengers simply choose not to fly.
The nature of demand also lends itself to a late booking curve. That is, flash-sales to generate cash are not quite an option. Similarly, ancillary revenue streams cannot be leveraged in the same manner as with larger airlines due to operational constraints.
That said, there are mitigation measures to stimulate demand but these have hardly been used in the Indian market. Both due to the nascent nature of the market and also the challenge in finding and keeping talent. This may change going forward.
The government has been cognizant of the fact that regional airlines in India never quite took off and consequently impacted connectivity. Thus the regional connectivity scheme labelled the Ude Desh Ka Aaam Nagarik (UDAN) scheme was launched in June 2016 and was intended to be a game changer. The intent of the scheme is to connect un-served and under-served airports across the country in an affordable manner, boosting connectivity. The delivery mechanism includes bidding and awards of routes to airlines including subsidies on seats, discounted input costs and monopoly status on routes.
The scheme has its successes and failures and to the credit of policymakers, they have taken inputs from the industry and tweaked the scheme with each successive bidding. One would expect several new or existing pure regional airlines rushing for these rounds, but a closer examination shows much of the success has come from existing large operators.
Ironically, some airlines have not even taken the Viability Gap Funding subsidy, instead have leveraged the scheme strategically towards gaining additional slots at congested Tier-1 airports, monopoly status on routes and lower operational costs. Air India, also flying some UDAN routes via its subsidiary Alliance Air, however, the decisions there may have other drivers in addition to commercial feasibility.
In spite of the regional airlines' past history of failure, a successful regional airline in India is not an impossibility. Especially considering what may be labelled as post-pandemic dynamics. But it has to be planned for thoroughly. Business models such as the white-label flying, dynamic capacity adjustments, state support, recurring revenue and transitional asset use are now available and increasingly adaptable. These may very well be the answer.
For now, the fastest and most economic manner to connect city pairs remains via air. And this is where the regional airlines can come and complete the connectivity link.
SatyendraPandey is an India market expert and has held a variety of roles within aviation. His positions include working as the Head of Strategy & Planning at Go Airlines (India) and with CAPA (Centre for Aviation) where he led the Advisory and Research teams. He is also a certified pilot with an instrument rating.