Indian Railways' Big Bet On Solar And Wind Energy Generation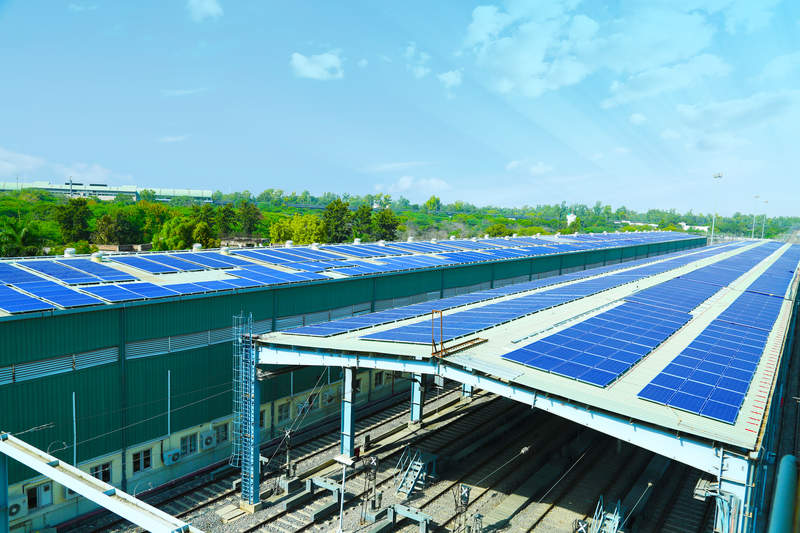 Stepping up efforts to reduce dependence on fossil fuels, Indian Railways has undertaken a two-pronged strategy that involves sourcing of electrical power from renewable sources and also taking up several conservation measures to reduce energy consumption and carbon footprints.
The national transporter has planned to install 1000 Mega Watt (MW) of solar and 200 MW of wind power plants across all zones and production units.
Till date, Railways have installed about 88 MW of solar power plant and 103 MW of wind power plants. The state-run transporter has already provided solar panels on the rooftop of 19 Narrow Gauge coaches on trains in Kalka-Shimla and Kangra Valley in Northern Railways and 40 Broad Gauge non-air conditioned coaches which are presently in service.
Also, rooftop solar panels have been provided on 50 Goods Guard Brake Vans to supply electricity for fan, light and a charging point for the Guards.
However, there are constraints as a solar energy system works during sunlight and generates a battery backup of approximately 4 to 5 hours. The system does not work properly during fog/rain and winter season and the battery backup goes down to 2 to 3 hours depending upon weather condition, said a senior Railway Ministry official involved with the solar energy project.
Solar panels on train rooftops require frequent cleaning as a lot of dust gets deposited during to movement of trains. Also, solar power generation is maximum if the panels are directly exposed to sunlight.
Besides, solar power generation in moving trains is less due to frequent changes in direction, the shadow of trees and fixed structures along the track. Moreover, the generation will depend a lot on the terrain and there will be zero generation during night hours. The weight of solar panels on coach rooftops is an additional constraint.
Hence, the official said provision of solar panels on the rooftop of train coaches is presently under the experimental stage and hence not considered for installation on all train coaches.
Railways have taken the decision to provide solar panel on rooftop of 10 coaches of a train in the day running intercity service, 50 coaches of 3 passenger trains and 50 per cent narrow gauge coaches plying on Pathankot-Joginder Nagar route in Kangra Valley section and Kalka-Shimla section of Northern Railway for conducting extended trials.
Spelling out railways green plan, Railway Board Chairman VK Yadav has said that the aim is to tap solar power to lower its expenses. "The railways plans to become self-sufficient in solar power by 2030."
According to the action plan, Railways will set up a large solar power capacity along railway tracks, which will be able to generate 1,000 MW by 2021-22 and it will achieve the capacity of 5 gigawatts (GW)by 2030. Out of this, solar plants of 500 MW are to be installed on the railway buildings' rooftops to meet non-traction loads at railway stations. While land-based solar plants of around 500 MW will be used to meet both tractions as well as non-traction requirements.
Apart from that, the Railways will also contribute towards the National Solar Mission. It will also fulfill in meeting renewable purchase obligations of Indian Railways as a deemed licensee.
Stressing on the need for zero-emission, Yadav said that the national transporter will go green by 2024 as its entire network will be electrified.
The Railways has identified its land pool, which can be used for solar power generation. He said about 51,000 hectares of land is available with it which is fit for the solar power generation and railways require about 5 GW power for its usage.
Railways is also setting up a 50 MW land solar power plant at Bhilai in Chhattisgarh, which is likely to be commissioned by January 2021.
Besides, railways has also tied up for 400 MW solar power for its traction energy need through Rewa Ultra Mega Solar Ltd (RUMSL), a Joint Venture of Madhya Pradesh Urja Vikas Nigam Ltd (MPUVNL) and Solar Energy Corporation of India (SECI).
Meanwhile, 16 railway stations have already been declared Green railway stations. These railway stations are meeting energy needs completely either through solar power or wind power. These 100 per cent renewable energy powered stations are Roha, Apta, Pen in Central Railway zone, Niamatpur halt, Niyazipur halt, Teka Bigha halt, Mai halt, Kanhaipur halt, Garsanda halt, Dhamaraghat in East Central Railway zone, Shimla, Shri Mata Vaishno Devi in Northern Railway zone, Unhel, Ambli Road, Khanderi, Bajud, Sadanapura and Sachin in Western Railway zone.