Eight National Waterways In The Works To Cut Surface Transportation Cost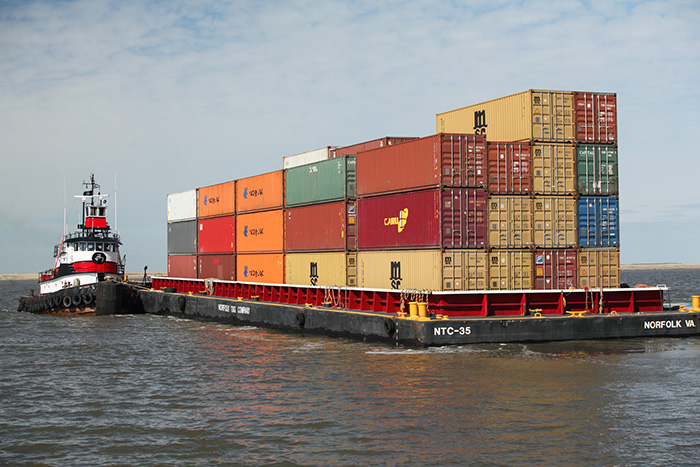 Underlining the importance of inland waterways, the government has pushed eight National Waterways projects at an estimated cost of about Rs 152 crore to reduce the surface transportation cost significantly.
The Shipping Ministry has undertaken eight viable new national waterways in Assam, Bihar, West Bengal, Kerala and Goa for shipping and navigation activities.
In Assam, development for the National Waterways-16 in the Barak river has been commenced at an estimated cost of Rs 76.01 crore from Silchar to Bhanga. The project includes maintenance, dredging, upgradation of terminals at Badarpur and Karimganj. The waterway is already operational with a limited infrastructure facility.
The initial development process has been completed as per requirement and further development process will be synchronized with cargo demand, said a senior Shipping Ministry official.
For waterways in Goa, National Waterways-27 in the Cumberjua river, National Waterways-68 in the Mandovi river, national waterways-111 in the river Zuari has been initiated.
A tripartite MoU has been signed with the Goa government and Mormugao Port Trust for the development of National Waterways in Goa. Development of National Waterways in Goa at an estimated cost of Rs 22.65 crore has commenced, the official said.
Installation of three floating Jetties amounting to Rs 11.33 crore on the river Mandovi and one on the river Chapora on EPC basis has been taken up.
In Kerala, Alappuzha – Kottayam – Athirampuzha Canal, which is part of National Waterways-9, is already operational for ferry services. The maintenance scheme for development at a cost of Rs 0.82 crore was approved in May 2019 for execution during 2019-20. Night navigation facilities have also been installed.
The river Rupnarayan, part of National Waterways-86 in West Bengal is being developed at an estimated cost of Rs 24 cr. Work has been awarded for setting up of floating terminal and the waterway is currently operational.
Development of waterway at an estimated cost of Rs 18.10 crore has been commenced in the Sunderbans Waterways, part of national waterways-97 in West Bengal.
Upgradation of infrastructure at Hemnagar has been taken up to handle Cargo/ Passenger or Customs/ Immigration requirements. The waterway is part of the Indo-Bangladesh Protocol route and already operational for vessels.
Ministry is expecting significant savings in the cost of transportation by using the Inland Water Transport (IWT) mode of transport.
Currently, the National Waterway-1 (river Ganga), NW-2 (river Brahmputra) and NW-3 (West Coast Canal from Kottapuram to Kollam along with Udyogmandal and Champakara Canals) are operational and vessels are plying on them.
In addition, NW-10 (river Amba) in Maharashtra, NW-68 (river Mandovi) in Goa, NW-73 (river Narmada) in Gujarat, NW-83 (Rajpuri Creek) in Maharashtra, NW-85 (Revadanda Creek – Kundalika River System) in Maharashtra, NW-91 (Shastri river-Jaigad creek system) in Maharashtra, NW-97 (Sunderbans Waterways) in West Bengal, NW-100 (river Tapi) in Gujarat & Maharashtra and NW-111 (river Zuari) in Goa are also operational.
Inland Waterways Authority of India is implementing the Jal Marg Vikas Project (JMVP) at an estimated cost of Rs 5369.18 crore for capacity augmentation of navigation on the Haldia-Varanasi stretch of Ganga with the technical and financial assistance of the World Bank.
Under JMVP projects worth Rs 1800 crore have commenced on the ground in a time period of three years after statutory clearances. These include Multimodal Terminals at Varanasi and Sahibganj and three contracts for dredging.
Fairway development works in the Vijayawada-Muktyala stretch of river Krishna in Andhra Pradesh (Part of NW-4) have also been completed.
Fabrication of four floating pontoons and land acquisition for fixed terminals at Ibrahimpatnam, Harischandrapuram, Muktyala, and Madipadu has also been taken up.