Go For Bungee Jumping From "Uttarakhand Simply Heaven"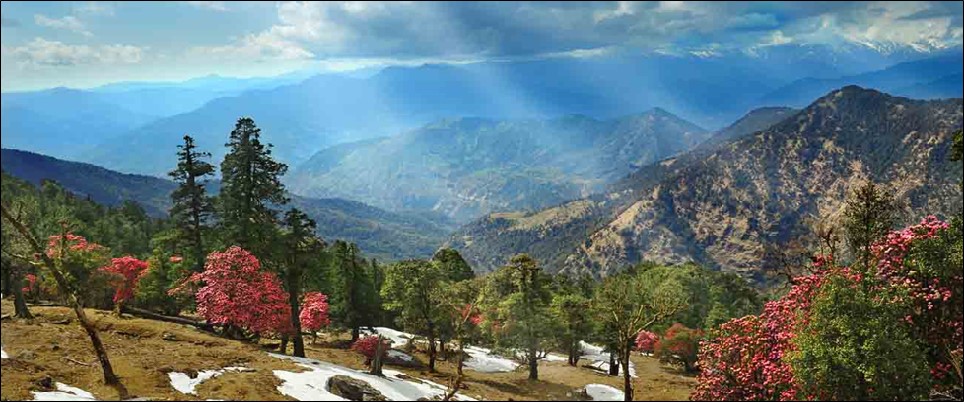 The scope of adventure tourism such as bungee jumping, skiing and paragliding along with witnessing the nature at its best in the Jim Corbett National Park and Rajaji Tiger Reserve were some of the options offered to various stakeholders participated in the webinar session here.
Highlighting the tourism potential in Uttarakhand, the DekhoApna Desh webinar series dwelt upon two regions – Kedar Khand (Garhwal Region) and Manu Khand (Kumaon Region) – and highlighted the popular destinations like Gangotri, Yamunotri, Badrinath, Kedarnath, Hemkhund Sahib and the UNESCO World Heritage Site of Valley of Flowers.
Titled "Uttarakhand Simply Heaven", the webinar organised by Tourism Ministry showcased Uttarakhand's Adventure Tourism potential such as river rafting at Rishikesh and Pittoragarh, winter sports and skiing in Auli, paragliding at Tehri Dam and Kaushani, innumerable options for trekking available such as Chopta and Pindari Glacier and India's highest bungee jumping facility in Rishikesh.
The webinar session was presented by Pushpesh Pant, an eminent scholar, Food Historian and an expert in International Relations, Ex-Professor of JNU, Ganesh Saili a renowned author, notable photographer and an authority on the history of Uttarakhand and Shashank Pandey, a certified outbound trainer, MD of Aspen Adventures, Rishikesh.
The session was moderated by Rupinder Brar, Additional Director General, Ministry of Tourism.
Besides adventure activities, the session also presented options for experiencing the best of nature by paying a visit to the oldest national park of the country- Jim Corbett National Park, Rajaji Tiger Reserve and UNESCO site of Nanda Devi National Park-exploring the rich diversity of floral and fauna of Himalayan Region.
Uttarakhand's immense opportunities for developing and exploring rural tourism offerings, the best options for homestays wherein one can experience and feel the real hospitality of the people serving the best of local cuisine also was highlighted by the presenters.
Concluding the session, Brar said "Uttarakhand 'Dev Bhoomi', the Land of Gods is a mesmerizing destination for tourists of all tastes. It is a multi-faceted destination beginning with a sacred and religious site to be an adventure land with rich biodiversity in its purest form.
The DekhoApna Desh webinar sessions are conducted with active support of National e-Governance Division (NeGD) of Ministry of Electronics & Information Technology (MeitY).
For those who had missed these webinars, the sessions are now available on the https://www.youtube.com/channel/UCbzIbBmMvtvH7d6Zo_ZEHDA/featured and also on all social media handles of Ministry of Tourism, Government of India.