Howrah Station With Over 4 Lakh Free WiFi Users Daily Emerges As Top Rail Premise To Provide Connectivity In India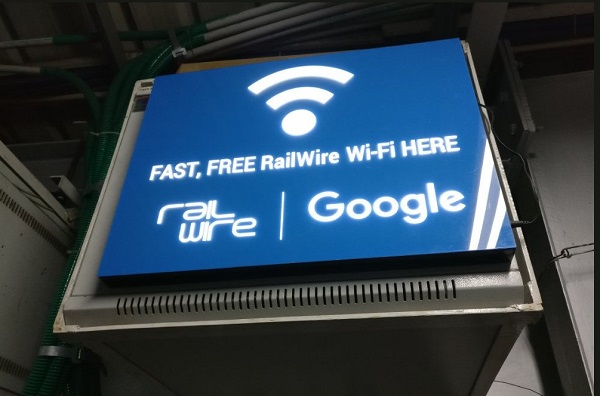 With nearly 10 lakh people availing free WiFi facility daily at stations across the country, Howrah has emerged at the leading station where over 4 lakh are using the facility in a day.
Among the top four stations to have maximum Wi-Fi users, Howrah is closely followed by Secunderabad, Patna and Allahabad in India.
Stepping up efforts to transform railway stations for digital inclusion, Indian Railways is currently providing free WiFi at 5610 stations on the rail network in the country.
Out of the top four stations for maximum WiFi users, 4,72,582 people used free-WiFi for uploading and downloading data at Howrah station on February 20, while 3,51,016 rail users availed the facility at Secunderabad station, 3,32,923 people at Patna station and 2,14,222 at Allahabad station on that day, according to the RailTel data.
RailTel, the technology arm of Railways, is entrusted with the responsibility for providing free Wi-Fi at all stations in the country.
According to the data, about 28.8 million people are using free-Wi-Fi at stations with data utilisation of 9350 terabytes in a month, a world record in itself.
The Wi-Fi service at stations is becoming very popular and commuters which include students, businessmen, workers and women are availing the facility, said a senior RailTel official.
Now the Railways is thinking to allow people residing near stations to also use the facility. The latest available data suggests that there are about 9.9 lakh persons using free WiFi facility at railway stations with 310 terabytes used per day on an average.
Recently, Google has announced that it is shutting down its free WiFi project with Indian Railways under which it was providing the service at 415 stations.
However, the free Wi-Fi service at these stations would not be affected as the RailTel would continue to provide the service without any interruption.
RailTel in a statement said, "We entered into a 5 years contract with Google for supporting us with setting up WiFi at 415 stations only and the contract is going to expire on May 2020. However, RailTel will continue to provide uninterrupted WiFi service, with the same speed and network quality, to passengers at these 415 stations after May 2020 as well. We sincerely value the support we received from Google on this journey.
"RailTel will continue to provide free WiFi at more than 5600 railway stations across the country including the 415 stations which were commissioned with the technological support from Google. Passengers will not face any inconvenience in terms of Wi-Fi availability."
Google has launched the project in 2015. While Indian Railways provided the fibre connectivity for the internet, Google was responsible for installing and maintaining the access points. The Railways has since then launched an initiative to connect more stations on its own and has connected over 5,500 stations with other partners, including Tata Trust and Power Grid Corp.
Indian Railways is also installing CCTV cameras across all stations and coaches in order to strengthen the safety and security of rail premises in the country. For railways, WiFi and CCTV are being provided at rail premises as upgraded amenities for passengers to make the train journey safer and enjoyable.